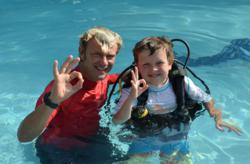 Making sure the whole family has a great time in the Cayman Islands is a priority for Red Sail Sports and it always has been.
Grand Cayman, Cayman Islands (PRWEB) February 28, 2013
Red Sail Sports, a leading watersports operator in Grand Cayman, is offering two 2013 dive packages loaded with discounts and perks for families who want to spend quality time together above and below the crystal clear waters of the Cayman Islands. Famous for its world-class diving, perfect weather conditions, impressive safety record and beautiful Seven Mile Beach, Cayman is ideal for vacationing families, both divers and nondivers. This safe, English-speaking, British Territory is just an hour's flight from Miami, and it offers hotels, resorts and condos to suit all budgets. In no time, visitors are on the beach soaking up the sun or checking out scuba gear for their first dive.
"Making sure the whole family has a great time in the Cayman Islands is a priority for Red Sail Sports and it always has been," says Rod McDowall Operations Manager.
Red Sail Sports has been offering first-rate dive services for 25 years, and it has a variety of scuba experiences available for the whole family.The company operates watersports shops across Grand Cayman, from Seven Mile Beach to East End to North Side, so no matter where guests stay on the island they can dive with Red Sail Sports.
Its customized dive packages allow visitors to choose their own accommodations and then join the fun. Red Sail Sports' fleet of eight dive boats are designed with a diver's needs and comforts in mind; spacious decks, a marine head (restroom), fresh water showers, large platform and ladders for easy entries and exits. And as a special "Red Sail" touch, fresh fruit is served between dives.
A family dive vacation need not break the bank. With the Dive and Sail Package, the more a guest dives, the more they save - up to $250 per person. This package includes a daily 2-tank dive, a 50% discount on a night dive, a 50% discount on a 1-tank afternoon dive, plus a 20% discount on a dive trip to Grand Cayman's world-famous Stingray City, often called the best 12-foot dive in the world! Dozens of friendly Southern Stingrays congregate here daily to be fed and petted by divers. Guests also enjoy a FREE Sunset Sail aboard a luxury Catamaran and a Red Sail Sports t-shirt. A vacationing family with several scuba divers can rack up some savings.
Another dive package offered by Red Sail Sports is the Kittiwake Dive and Sail Package. Divers enjoy the island's newest dive site, the popular wreck of the USS Kittiwake, at a 20% discount. The former submarine rescue ship was sunk two years ago as an artificial reef, and is now resting on a sandy bottom in 65 feet of water just off Seven Mile Beach. Home to all kinds of interesting sea critters, the Kittiwake attracts both divers and snorkelers because the top of the bridge and its smoke stack are within 10 feet from the surface. This package includes the same discounts and perks offered in the Dive and Sail Package. Both dive packages start at just $366 per person for three days and are valid from January 2, 2013 – December 20, 2013.
Vacationers who want to complete or continue their scuba education while in the Cayman Islands can enroll in the Red Sail Sports Scuba School, which offers all levels of scuba courses from Open Water Certification to Dive Master.
Family members who don't dive can also join the scuba fun by taking a Learn to Dive Resort Course which allows them to make a sea dive after a short pool session. Students learn the basics of scuba, get comfortable with the gear and then join the afternoon boat dive trip for a shallow dive with a Red Sail Sports dive instructor. This experience is a great introduction to the spectacular reefs of Cayman, and resort divers can keep diving during their vacation. Many resort students go on to become certified divers.
Scuba is for kids too! Red Sail Sports offers kid friendly pool-based activities like the Bubblemaker for kids 8 years old or older to experience scuba in the pool with an instructor. They learn scuba basics, how to use the gear and then make a short dive in the shallow end of the pool with a dive instructor. The SASY (Supplied Air Surface for Youth) program allows children ages 5 - 8 to gear up in pint-sized scuba gear, blow bubbles and swim around on the surface of the swimming pool with an instructor while watching the action below.
"This experience is the perfect way to introduce kids to scuba and help them learn about the sea," says McDowall. "They could be our future divers and the next generation of environmentalists."
Red Sail Sports offers a number of other water adventures for the whole family. Waverunner Safaris are a great way for the entire family to snorkel and explore shallow reefs and mangroves together. The safari begins with an exhilarating waverunner ride to snorkel spots to explore coral gardens teeming with tropical fish and other sea creatures. A safari through the mangroves is an educational exploration of a unique ecosystem that keeps the water clean, protects the shoreline and provides a nursery for young fish.
Families can also enjoy glass-bottom boat trips to the Stingray Sandbar, Catamaran snorkel trips, sunset sails and dinner sails, and beach sports like windsurfing, kayaking and more. If its true that the family that plays together stays together then it's a sure bet that a Red Sail Sports dive vacation to Grand Cayman, will provide great memories to take home!
About Red Sail Sports
Red Sail Sports, a member of the Cayman Islands Tourism Association is a leading resort-based dive and watersports operator celebrating 25 years of excellence. Since 1987 it has been setting the standard by providing the highest level of guest service. On Seven Mile Beach Red Sail Sports operates locations at the Westin Resort, the Marriott Resort, the Grand Cayman Beach Suites and the Ritz Carlton Grand Cayman. At East End the company has a concession at Morritt's Tortuga Club and it offers dive and catamaran services to The Reef Resort. On North Side Red Sail Sports offers activities at the Rum Point Club. For more information call Red Sail Sports toll free (877) 506-6368 or in Grand Cayman (345) 623-5965.