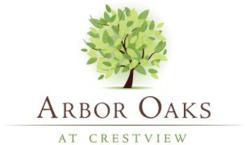 This community, and the staff, is here to provide a worry-free lifestyle so residents can keep up with everything else they're involved in.
Bryan, Texas (PRWEB) February 27, 2013
Construction is complete at Arbor Oaks at Crestview, and now the area's first Life Care retirement community is open. It's a highly anticipated time both for residents who are starting to move in and new employees. Arbor Oaks, and the new independent living apartments, provides new senior living options and a vibrant, maintenance-free lifestyle for more than 150 older adults. Life Care communities (a type of Continuing Care Retirement Communities or CCRC) are seeing popularity spikes across the country. According to recent studies, the number of older adults in CCRCs has more than doubled over the last decade.
"We're excited to open our doors, and it's clear that seniors in the area are excited about this new lifestyle option and the benefits provided," says Ron Jennette, president and CEO of Methodist Retirement Communities (MRC), the not-for-profit sponsor of Arbor Oaks. "We've received deposits on nearly all of our residences, and I think anyone who comes to Arbor Oaks will see why this concept is making a splash here and is a growing trend across the country."
Arbor Oaks features 92 maintenance-free independent living apartment homes. Activities and amenities include restaurant-style dining options, a fitness center, pool, salon, library, billiards room, creative arts center and more. In addition, residents have lifetime priority access to a continuum of care at the on-site health center, including 48 assisted living, 48 skilled nursing and 18 dedicated memory support residences, if ever needed. All services for residents are provided at their Life Care rate.
"Today's seniors and those in the coming years want more activities and engagement, a greater sense of freedom and peace of mind," Jennette says. "This community, and the staff, is here to provide a worry-free lifestyle so residents can keep up with everything else they're involved in."
Statistics from the federal Administration on Aging show Life Care communities are meeting a great need. There are currently about 40 million Americans age 65 or older, and that number is expected to nearly double by 2030. Over that same period, the representation of older adults is expected to climb from 12 to 20 percent of the American population.
Though Arbor Oaks at Crestview is 97 percent reserved, there is a waiting list. Photos of the community are available upon request, as are media tours. A grand opening ceremony with a public open house will be scheduled in early summer.
Arbor Oaks at Crestview is located at 2505 E. Villa Maria Road in Bryan. To learn more about Arbor Oaks at Crestview, call (979) 774-9938 or visit http://www.ArborOaksAtCrestview.com.
About Methodist Retirement Communities (MRC)
Arbor Oaks at Crestview is sponsored by MRC, a not-for-profit, service ministry that enjoys a volunteer affiliation with the Texas Conference of the United Methodist Church. MRC has provided senior housing and health care services in Texas for more than 50 years. MRC communities welcome residents of all faiths and beliefs. MRC operates communities throughout Texas, including in Bryan, Huntsville, Lufkin, Texarkana, League City and La Porte. Most campuses are full-service retirement complexes that provide a wide array of housing options for seniors. Additional information on MRC is available at http://www.mrcaff.org.