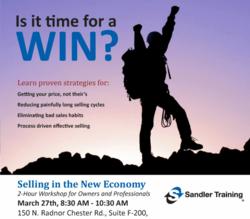 Businesses today have an opportunity for a huge win this year.
Radnor, PA (PRWEB) February 28, 2013
Sandler Training in Radnor's new Philadelphia sales workshop, "Selling in Today's Economy," is educating sales professionals and business owners on the power of non-traditional sales techniques in today's post-recession economy.
Philadelphia business coach Rich Geise leads the complimentary workshop, which focuses on why old techniques like trying to sell on features and benefits are no longer effective, and how a systematized approach to sales can make a huge impact today.
For many small to medium size business owners the strengthening economy has already had an impact on business, but many feel that this is only the beginning.
"Owners and sales professionals today recognize that this isn't just time to return to pre-recession business, but to grow a stronger and more successful business than ever," says Geise. "By adjusting sales processes and methodologies, businesses today have an opportunity for a huge win this year."
The seminar is open to sales professionals, sales managers and business owners. The workshop teaches techniques on differentiating companies from competitors, reaching qualified prospects, and applying a sales system to dramatically improve sales results.
The "Selling in Today's Economy" workshop is completely underwritten by Sandler Training, making it free for attendees, however registration is limited. For more information visit http://geise.sandler.com/
ABOUT SANDLER TRAINING IN RADNOR
Sandler Training center in Radnor is a leading Philadelphia sales training organization that teaches business professionals honest, no-nonsense sales and communication techniques, behaviors and attitudes that get results.