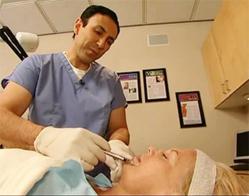 Los Angeles, California (PRWEB) February 28, 2013
According to a January 31, 2013 ABC News article, four million Botox doses were sold in 2012. Despite its popularity, many Botox patients don't know how best to ensure the safety and efficacy of their treatments. (Go to: goo.gl/YNp50)
Dr. Simon Ourian, Medical Director of Epione Beverly Hills, recommends that anyone interested in getting Botox follow five simple steps to protect their safety. "A Botox injection is a medical procedure and should be treated that way," says Dr. Ourian. "It should always be performed by a trained medical professional in a medical environment."
Step 1: Choose a Medical Professional: Safety starts with the choice of medical professional. Dr. Ourian recommends Botox treatments be done by a physician, one that has plenty of experience and training. Further, confirm the procedure will be performed in a safe, sterile environment.
Step 2: Review Your Health: Botox isn't right for everyone. Various conditions and medications can cause unexpected side effects. Patients should confirm with the physician that their medical history allows for Botox treatments.
Step 3: Do Your Research: Patients should be aware of the potential side effects of Botox including rare allergic reactions. Most reputable physicians that offer Botox will have this information, as well as Botox before and after photos, on their website.
Step 4: Take It Easy: Patients should make an effort to understand all post-treatment instructions. Doctors recommend that patients relax for a few days and pay attention to whether they have problems breathing or swallowing or any other indication the toxin's effects have spread outside the areas of injection.
Step 5: Check the Product: Recently, the U.S. market has been flooded with counterfeit Botox. Genuine products feature an "Allergan" hologram and various identification numbers. One should confirm the authenticity of their product prior to undergoing treatment.
"I have a Step 6," says Dr. Ourian, "Ask Questions. Before receiving a Botox treatment, alleviate any and all concerns one may have by talking to the physician and not allowing him or her to proceed until all your questions have been answered."
Dr. Ourian has been a pioneer in laser technology and non-invasive aesthetic procedures including Restylane, Botox, Juvéderm, Radiesse and Sculptra. These treatments are used for the correction or reversal of a variety of conditions such as acne, acne scars, skin discoloration, wrinkles, stretch marks, varicose veins, cellulite, and others. More information about Botox treatments can be found on Epione's website.