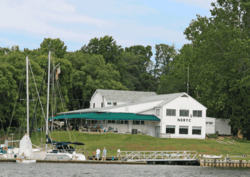 The friendly club at the peak of the Chesapeake
North East, MD (PRWEB) February 28, 2013
North East River Yacht Club (North East, MD) is hosting an Open House on Sunday, April 21st from 2:00 to 4:00pm. The Open House will feature facility tours and the opportunity to learn more about the many amenities, Power, Sail and Social activities and benefits that NERYC has to offer potential new members and guests. The Club's Dockmaster will also be available to present any remaining slip accommodations for the 2013 boating season. Parents and children age 7 to 18 can also preview NERYC's popular Summertime "Learn to Sail" program which is open to everyone, and see the club's fleet of training boats and boathouse. The program offers instruction at all levels – beginners, intermediate, and advanced racing.
Restaurant staff will be serving complimentary menu samplers during the Open House, and be available to discuss its capabilities for events such as business meetings, parties and weddings. The restaurant and bar will open to serve members and visitors for its regular dinner service beginning at 4:00pm.
About NERYC:
Founded in 1930, North East River Yacht Club offers an exceptional setting for recreational boating on the Upper Chesapeake Bay. With a magnificent waterfront property, well maintained clubhouse, restaurant & bar, and a modern marina with floating docks, members and guests enjoy an extensive calendar of events and programs year-round. The club is conveniently located to Northern Maryland and Delaware, Southern New Jersey, and Southeast Pennsylvania, and within easy access of I-95.