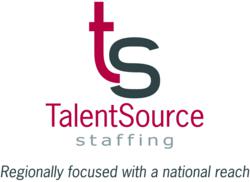 We've grown every year since we've been in business, and we started when the economy was at its worst.
South Bend, Ind. (PRWEB) February 28, 2013
TalentSource Staffing is celebrating a successful 2012 by opening a new office and adding staff in 2013.
TalentSource Staffing is a firm of recruiting generalists specializing in a wide range of professional disciplines. As a sole source staffing provider, they can assist with all professional placement needs, including direct hire, contract staffing and contract-to-hire services.
Founded in 2009 by Tammie Carr, the firm doubled its sales from 2011 to 2012, reaching $300,000 in direct hire job orders and a little over $500,000 in contract placement deals.
"We've grown every year since we've been in business, and we started when the economy was at its worst," said Carr, who has almost 20 years of industry experience, including professional contract staffing, professional direct-hire recruitment, branch management, on-site client management, sales/marketing and account management.
That growth has resulted in some exciting changes for the firm this year. TalentSource Staffing recently opened its first physical location at 109 E. First St, Mishawaka, IN 46544. Previously, the recruiters had a "remote work arrangement," Carr said.
"It's a central location for our recruiters to meet candidates and for our weekly team meetings," she said.
The firm's staff is also growing. Dawn Skene is the newest addition to the team. As the Recruiting Market Manager, she is tasked with developing the Indianapolis market, Carr said. She previously worked as a Key Account Regional Sales Manager at Nestle Waters North America.
"She's already made two placements, so she has hit the ground running," Carr said. "Obviously, there is great potential in Indianapolis, so we are excited that we are going to be growing and developing in that area."
TalentSource Staffing was also successful in diversifying and growing contract staffing side of the business in 2012.
"Before, we could count contract staffing clients on one hand," Carr said "Now it has expanded. We're not putting all our eggs in one basket on the contracting side anymore."
The firm has attracted a wide variety of clients and types of positions. They have placed contractors in industries ranging from manufacturing to service sectors and in positions ranging from customer service representatives to C-suite level executives.
"We really want to work on finding more high volume accounts," she said. "There is still more in this market we haven't tapped into."
TalentSource Staffing places its contractors through the contract staffing back-office services of Top Echelon® Contracting (TEC). Since working with TEC, the firm has placed 133 contractors.
"I have had the pleasure of working with TalentSource Staffing since 2009," said TEC Contract Staffing Administrator Jennifer Ward. "Their recruiters are very accommodating and flexible, willing to do whatever it takes to meet their clients' staffing needs."