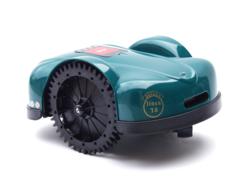 LawnBott® mowers are so quiet when they are cutting! The low noise level would never scare your dog. You get to play in the yard, not work in it
Atlanta, GA (PRWEB) February 28, 2013
LawnBott® of Greater Detroit will showcase the LawnBott® robotic mowers at the Detroit Kennel Club Dog Show, March 2-3, 2013 at the Cobo Center. Find out more about the show, here: http://www.detroitkennelclub.com. After all, who more than man's best friend enjoys a beautiful, well-trimmed yard? Just as children enjoy playing in the grass, our furry friends also like to run around in the yard. And the LawnBott® robotic mowers help keep our yards looking great.
Being a benched show, the LawnBott® will be on display in its stand during the entire day. While the LawnBott® is not expected to ribbon at the event, it is only because there is not a category for best robot. Still, we think all the contestants can appreciate the virtues of a beautifully maintained lawn.
Mike and Kate Lochner, owners of LawnBott® of Greater Detroit, will be on hand during the event discussing the benefits of a well behaved pet and a well-trimmed yard. Mr. and Mrs. Lochner also own the Happy Tails Learning Center for Dogs and equally enjoy spending time with their dogs and not mowing their grass! After attending a dealer event at LawnBott® offices in Atlanta, Kate said, "LawnBott® mowers are so quiet when they are cutting! The low noise level would never scare your dog. You get to play in the yard, not work in it."
LawnBott® is a line of completely automatic robotic mowers. From the LB3510 for larger yards to the new for 2013 LawnBott® LB75 robotic mower for smaller yards, there is a LawnBott® for almost every yard and home. The LawnBott® LB75 robotic mower is brand new for 2013 and brings robotic mowing to a larger audience offering fully automatic performance at a lower price. With key features such as fully programmable, LCD display, rain sensor, auto-recharging and capable of handling up to 3 zones for the ultimate in yard control, the LB75 sets the standard in affordable automatic mowers. See the video, here: http://youtu.be/6ZKZDkVihJA.
Kyodo America Industries, Co., LTD, is an Atlanta, GA based manufacturer of lawn & garden products and the LawnBott robotic mowers. LawnBott's were originally developed in Italy and are making their way across the US and Canada. Since 2000, our robotic mowers have been helping homeowners maintain their yards without the sweat and aggravation of conventional mowers. To find out more information and the dealer who services your zip code, please visit our website at http://www.LawnBott.com.