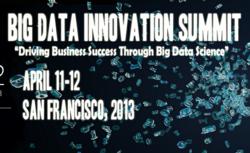 Driving business success through big data science
Highland, UT (PRWEB) February 28, 2013
Strategy-keys.com, leading innovator in business strategies and a press partner of The Innovation Enterprise announces the Big Data Innovation Summit to be held in the Westin St. Francis, San Francisco this April 11 & 12.
With the theme "Driving Business Success through Big Data Science", the summit will feature more than eighty industry experts and 1000+ Big Data members and other leaders. Attendants will have a chance to connect with industry leaders through interactive workshops and 25 hours of networking opportunities. There will also be access to online presentations on-demand after the summit.
As the largest and most important Big Data Executive Lead Summit, this event will be attended by only the top guns in data analysis. The confirmed speakers include:

Ashok Srivastava, Principal Scientist, NASA
Gabor Szabo, Data Scientist, Twitter
Mohammad Sabah, Data Science/Analytics, Facebook
Jesse Bridgewater PhD, Director of Data Science, EBay
Christian Grijalva, Division Director, US Dept. of Defense
Inder Singh, SVP/Big Data, Comcast
Yael Garten, Senior Data Scientist, LinkedIn
Sam Hamilton, VP/Big Data, PayPal
Kareem Aggour, Senior Computer Engineer, General Electric
Steve Hirsch, Chief Data Officer, NYSE Euronext
Big Data Innovation leads other topics that include Big Data on Health Care, Finance and Government. Hadoop Innovation, Women in Big Data and Data Visualization will also be discussed.
The event venue, the Westin St. Francis, is a well-known destination for people who want to unwind and be pampered by world-class service and amenities. The Westin is Union Square's sole hotel and is the resting place of the Magnet Grandfather Clock. The hotel is only 12 miles from San Francisco International Airport (SFO), and 15 miles from Oakland International Airport. The Innovation Enterprise has a negotiated room rate at $299.
See more information about the summit
IE. is an independent Business-to-business multi-channel media brand focused on the information needs of Senior Finance, Operations, Planning, Strategy, Decision Support & Advanced Analytics executives.
Strategy-Keys.com is a web site devoted to sharing to you best-practices in business strategy and implementation