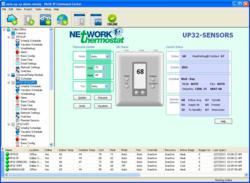 The Net/X Command Center Application manages thermostats AND third party browser-based devices for single screen view and control of web enabled systems.
Grapevine, Texas (PRWEB) February 27, 2013 (PRWEB) February 28, 2013
NetworkThermostat, a leading communications-based thermostat manufacturer since 1995, announces the availability of the Net/X-IP Command Center PC Software Application for the RP32 & UP32 Internet Thermostat platforms. The intuitive interface runs on any Windows platform from XP to Win 8 or any virtual machine using the same operating systems. Use the Application to view all thermostats associated with a project on a single screen and to organize projects at one or multiple locations. Each thermostat view has the same look and feel as the thermostat's embedded browser.
User log-in credentials provide electronic security while adding tamper-proof reliability to your HVAC settings. Use the secure Command Center software to set up passwords, permissions and configurations. Global functions facilitate setting vacation mode on multiple thermostats at once as well as synchronize time and date and overrides. The drag-n-drop feature of the Net/X-IP Command Center PC Software simplifies programming each thermostat with the same settings.
The Net/X-IP Command Center table view shows all the thermostats assigned to a project with data in tabular format. Tables can be updated as often as every 5 seconds and an additional new data file is created every month. The .csv file data is simply imported into Excel or other graphing tools for easy analysis.
Real time changes and the scheduling of NT-RELAYs (Dual Relay Programmable Time Clocks) is simple using the Net/X-IP Command Center Software Application. Use NT-RELAYs for pumps, lighting, signage, or anything that needs to be switched on or off.
View security camera systems or any other third party browser-based devices from within the Net/X-IP PC environment. The Command Center's integrated web browser allows web-enabled devices to be accessed and controlled from within the main screen of the application, facilitating multi-system control from a single screen.
Availability
The product is available through an ever-growing network of online retailers, HVAC distributors and contractors. Detailed information on this product and NetworkThermostat's industry leading network solutions can be found on the web at: http://www.networkthermostat.com , http://www.facebook.com/networkthermostat , https://twitter.com/NetXthermostat , email: sales(at)networkthermostat(dot)com, telephone: 866-563-0711