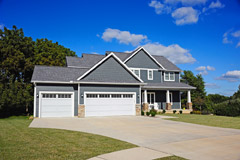 Arthur, IL (PRWEB) February 28, 2013
The 2290 Series of garage doors from C.H.I. is now available with optional window designs. These striking designer windows add even more sophistication to the 2290 Series and are available in Stockton, Madison, Prairie, and Sunburst.
This classic recessed panel garage door provides the look of traditional wood frame and panel construction, shaped from steel and embossed with a natural wood grain finish. By adding these new designer window options C.H.I. is able to introduce the homeowner to additional designs for garage doors that enhance the beauty of the door and ultimately increases the overall value of the purchase to the homeowner.
C.H.I. Overhead Doors is a prominent manufacturer of high-quality Residential and Commercial Sectional and Rolling Steel doors. Started in 1981 in Illinois Amish Country in Arthur, C.H.I. has risen to become an industry leader in innovation and quality. A mix of hand-made craftsmanship and computer-aided precision join together to make C.H.I. Overhead Doors...The Door To Quality.