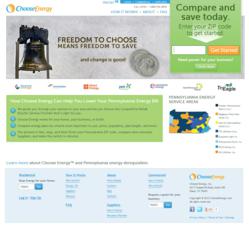 Pennsylvania residents and business energy consumers need a simple and secure enrollment platform to select the energy plan that best meets their needs. The ChooseEnergy.com site provides that service in a safe and objective plan presentment environment
Plano, TX (PRWEB) February 28, 2013
For quite some time, consumers and business owners in the great state of Pennsylvania have had the opportunity to shop for an energy supplier. Marketplace participation has been modest as consumers wade through a myriad of educational materials, energy suppliers, energy plans, and the legalese. With 46 suppliers servicing the Philadelphia energy market alone, consumers have been bombarded by advertisements and promotions causing some confusion in the marketplace.
Choose Energy simplifies this process and empowers Pennsylvania energy consumers and small business owners with the tools and information they need to research and compare leading national and local energy companies. Powered by proprietary technology, ChooseEnergy.com gives consumers the ability to do a side-by-side comparison of plans, pricing and terms so they can make an informed decision for their electric service.
"Pennsylvania residents and business energy consumers need a simple and secure enrollment platform to select the energy plan that best meets their needs. The ChooseEnergy.com site provides that service in a safe and objective plan presentment environment," declares Jerry Dyess, CEO of Choose Energy, Inc.
Pennsylvania residential and business customers alike will find informative details so they can feel secure they are getting the best available rate for their electric service. Choose Energy has compiled a wealth of information and resources, and invites consumers to contact them with any questions about their electricity needs. Consumers now have the power to switch in a simple and safe environment all from one site.
By comparing incentive offers and loyalty and rewards programs extended by the different Pennsylvania energy providers, business and residential customers who have never switched providers before can truly enjoy huge savings. ChooseEnergy.com provides comparison shopping for consumers and business owners looking to save money on their monthly energy bill. After submitting a valid zip code, shoppers are presented with up-to-date pricing and plan information available in their area. Information is organized in a consumer-friendly format that allows for sorting, filtering, and side-by-side energy plan comparison.
Since its founding in 2006, ChooseEnergy.com has helped over 100,000 consumers and business owners shop for and switch energy suppliers and plans, with over 1 billion KWH of energy selection occurring through the Choose Energy platform. ChooseEnergy.com is currently available in Texas, New York, Ohio, and now Pennsylvania. For more information, please visit https://chooseenergy.com/pennsylvania/.