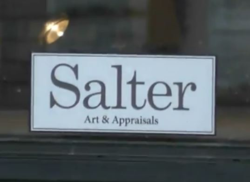 Now my PlayBook IS my office, in the car, on the job site... so now my office is anywhere I need it to be.
Windsor, Ontario (PRWEB) February 28, 2013
In a departure from installing their mobile offices for police vehicles,Mobile Innovations has installed a mobile in-vehicle office with PlayBook for Salter Art and Appraisals -- a Windsor-based fine art and antique appraisal company. Appraising estates throughout south western Ontario, the company's staff encounter extensive local travel and detailed reporting as part of their business routine.
Salter Art and Appraisals works with executors, lawyers and collectors dealing with large personal estates and investment quality pieces. The company must process large volumes of detailed information for each project. Large numbers of individual items are photographed, described, categorized and cataloged. Investment grade antique, art and collectible pieces are documented with copies made of purchase receipts, historical papers and certificates of authenticity for each piece.
Mobile Innovations Mobile PlayBook Office solution simplifies life for Salter staff by putting all of these and more functions onto a single mobile device that weighs only ounces– a PlayBook which snaps into a dock in their car. Appraisers use their PlayBooks anywhere to take tagged photos, make notes, and capture signatures. They also copy and annotate documents, print consignment forms and generate receipts on-site from their cars. The Playbook is always with them as they travel to and from job locations – a fully charged, touch screen display that quick-connects to a rapid charger, on-board printer, document scanner and GPS.
As securely and routinely as they use their office PCs, appraisers use their PlayBooks for access to art and auction databases, and to securely transmit gathered data to head office, in effect letting them carry their offices from their office, to their car, to the estate location and then back to the office.
" We were always worried about leaving something behind. We lugged our laptops, cameras, data sticks, printers, document scanners, all the cords and power bars and a pile of paper to every estate, then drag it all back. Now the PlayBook is our office." Explains Davis Gravelsins, Salter Art and Appraisals Managing Director. "The amount of time and grief we save with Mobile Innovations' mobile PlayBook office in our vehicles is huge. The GPS mapping is great and the all-in $2,000
price is the best of all."
On the surface the daily routines of policing and appraising paintings couldn't be more different, but they share a common need for office mobility, explains Gary Bauer, Mobile Innovations President and founder. "Every company with a fleet that does work requiring GPS locations, photos, forms, copies, reports and secure data access will benefit from our MPO or Mobile PlayBook Office, which could just as easily be in a forester's SUV as in an estate appraiser's van or an officer's police cruiser. "
Known for its work with law enforcement agencies, the company is winning a growing number of contracts from new non-police customers, including companies and government agencies involved in agriculture, energy, finance, forestry and transportation.
###
For more information, please contact:
Gary Bauer – President
Mobile: 1-416-889-9997
Email: garyb@mobinnoco.com
Mobile Innovations is a privately held company dedicated to enhancing productivity with the most advanced mobile data products available. Based in Niagara Falls, Canada, Mobile Innovations also has operations in Toronto and works with over fifty clients across Canada, the United States and in the United Kingdom. Mobile Innovations is a member of the BlackBerry® Alliance Program with seven years of service developing and deploying advanced mobile solutions for BlackBerry devices.