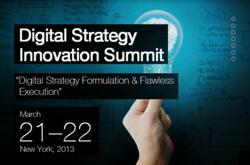 Digital Strategy Formulation and Flawless Execution
Highland, UT (PRWEB) February 28, 2013
Business strategy website strategy-keys.com together with The Innovation Enterprise is proud to announce the Digital Strategy Innovation Summit, a "digital strategy formulation and flawless execution" event to be held on March 21 to 22, 2013 at The Plaza in New York City.
More than two hundred of the world's most dynamic and senior executives specializing in digital strategy and planning are expected to attend. Furthermore, at least twenty five industry leaders will share their expertise through interactive presentations and workshops. Networking opportunities will also be provided lasting for more than twenty hours. As the largest and most important summit on digital strategy, the event will also feature more than twenty five case studies presented from Fortune 500 companies.
The speakers include influential senior-level executives, innovators, technologists, strategists, analysts and pundits, including:

Mark Howard, SVP/Digital Strategy, Forbes
Iliya Rybchin, Global Head of Strategy, Bloomberg
Ryan Osborn, VP/Digital Innovation, NBC
Jeremy Levine, SVP/Digital Sales, Live Nation
Rob King, SVP/Digital & Print Media, ESPN
The competence of digital strategy leaders is vital in implementing and executing digital strategies for their respective companies, especially with the continuing growth of the global market. Ideas on how to solve current challenges will be given through the following topics:
Building a Hub of Social Music Fandom
Reinventing the Wheel: Innovation in the Automotive Industry
How Marvel is ReEvolutionizing Comics
Giving Marketers a Voice in Today's Digital Environment
The Fairmont-managed The Plaza, one of the most popular Big Apple hotels, will host the event. The Plaza Hotel offers almost three hundred distinctive guestrooms, including 100+ suites, making it the largest luxury hotel in New York City. Suite guests get to enjoy twenty four hours of butler service.
For reservations and more information, click here.
IE. is an independent Business-to-business multi-channel media brand focused on the information needs of Senior Finance, Operations, Planning, Strategy, Decision Support & Advanced Analytics executives.
Strategy-Keys.com is a web site devoted to sharing to you best-practices in business strategy and implementation.