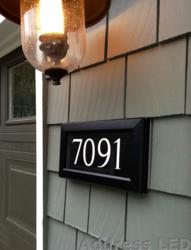 "I've gained invaluable experience working with custom LED lighting fixtures designed for the marine environment. I wanted to create a product with the same pedigree, at a reasonable price point for the residential market."
-Chris Barnett
Seattle, WA (PRWEB) February 28, 2013
Yachtstyle LLC, is pleased to announce that the United States Patent and Trademark Office has granted two design patents on its signature Address LED illuminated address sign product. The first of two design patents was published on 02/26/2013. The second design patent will be published on 03/05/2013. The weatherproof LED lighted street address design has been recognized by the Patent and Trademark Office as unique and exclusively owned by Chris Barnett of Seattle, WA.
About Address LED
Address LED is currently sold direct-to-consumers online by Yachtstyle LLC of Seattle, WA. The product design was developed by Chris Barnett while working at JQB Design, an award-winning yacht design firm located in Seattle. "I've gained invaluable experience working with custom LED lighting fixtures designed for the marine environment. I wanted to create a product with the same pedigree, at a reasonable price point for the residential market."
The patented weatherproof LED lighted street address sign is intended for home owners, home builders, decorators, landscapers, and do-it-yourself consumers in search of a high quality, customizable solution for their project. The lighted house numbers are available in three (3) different frame colors: black, silver, and white. Customers can choose from ten (10) unique font styles, and eight (8) vivid vinyl background colors.
The premium home decor product utilizes LED technology to provide long-lasting, solid-state performance. There are no bulbs to change or burn out. The low voltage (12 Volt DC) light fixture includes a UL listed indoor transformer to connect to household power. Alternatively, the weatherproof lighted street address sign can be directly connected to low voltage (12 Volt DC) landscape lighting layouts, commonly sold at local home improvement stores.
A lighted street address improves night time visibility for emergency first responders, delivery couriers, and visitors in search of a street address in the dark. The weatherproof design allows the lighted house numbers to be installed closer to the street – in a garden, on a post, or garage.