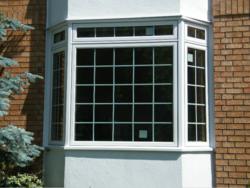 The Door Centre has continued to increase their green product offerings, carrying numerous items that hold the Energy Star designation
Burlington, Ontario (PRWEB) February 28, 2013
There is an ever growing trend towards green homeownership, and Burlington based The Door Centre is thrilled to be a part of it. Many Halton residents are looking for more ways to make their home more eco-friendly, resulting in decreased environmental impact, reduced energy consumption, and in turn, energy bill savings.
The Door Centre has continued to increase their green product offerings, carrying numerous items that hold the Energy Star designation. The Energy Star Program is coordinated by Natural Resources Canada, aiming to help guide consumers into making more environmentally conscious purchases.
One of the newest energy-saving items that the retailer is thrilled to announce is the new Low E 3 glass option from industry leading supplier Cardinal Glass Industries.
When installed correctly, this product will lead to a significant reduction in heating and cooling costs for homeowners. The coating proves superior insulating capabilities, leading to reduced heat loss. In the colder months, the interior coating reflects the warmth of the furnace back inside. It also features a silver glaze that reflects solar heat and UV rays out in the warm months, while still letting in a desirable amount of natural light.
Low E3 surpasses the performance regular low E glasses in many ways. Where traditional low emissivity coatings caused a slightly tinted view from inside a home, and increased reflectivity from outside the home, this new technology delivers the benefits without any of these undesirable attributes. Homeowners that invest in this style of coating will enjoy a clear, true-to-colour view of the outdoors while achieving energy savings.
For more information on reducing home energy requirements, visit http://www.thedoorcentre.ca.
The Burlington Door Centre first opened its doors in 1981, focusing specifically on meeting the constant demand for quality products and services in the windows and entryway industry. Over the past decades, they have established a reputation as the industry leader, maintaining a large showroom showcasing products that keep up with the current trends.