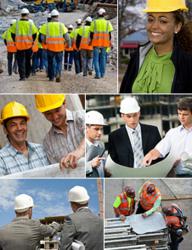 We are going to be working with the company and the individuals, so they are part of the process. We are going to put 100% into everything we do because their success is part of our success.
Fort Lauderdale, FL (PRWEB) February 28, 2013
Construction Connection, the online hiring and networking source created specifically for the construction industry, has taken on a new team member, Jonnathan Trilleras, a business-to-business marketing expert. Trilleras will be working closely with ConstuctionConnection.com Co-Founders Suzanne Breistol and Kent Leighton to advance their industry-specific Consulting Simplified program. With Trilleras' expertise, Construction Connection seeks to expand their reach to more small and mid-sized contracting and construction companies across the US, helping more people improve their business' efficiency and profitability.
Construction Connection is a leader in their field; through the site's members and their social media initiatives Construction Connection reaches over 100,000 people in the industry. Members include contractors, engineers, executives, tradesmen, heavy equipment operators, estimators, electricians, superintendents and many construction business owners. Though all members enjoy free registration and in-depth profiles, Breistol and Leighton want members to especially take advantage of their free resources such as reading educational and reaching out to the Construction Connection partners. Part of their mission in creating ConstructionConnection.com has always been to help business owners climb the ladder of success, and Consulting Simplified offers a personalized step-by-step, affordable approach to do just that.
The Consulting Simplified program, which is part of the partners program, offers common sense business solutions to contractors and small to mid-sized business owners to help them run their operations more efficiently, more smoothly and more profitably. They are not interested in finding fault when evaluating a company's business plan, but rather work with the business owner to create a roadmap that will clarify their vision and goals and lead them on the path to success.
"A lot of contractors and construction companies are great at what they do in the field, but they lack structure in the office," says Trilleras. "They don't have the right tools, or they don't do the right hiring, and their business suffers from it. It's very common in the construction industry. We want to be the leading experts who help them organize and structure their office operations and help their businesses grow."
Breistol, Leighton and Trilleras work with company members to evaluate and assess what the best solutions are for their specific contracting or construction business. They then develop a strategic plan to improve ten key areas: marketing, preconstruction and estimating, purchasing, contract administration and legal, project management, field operations and safety, project close-out and warranty, office management, financial accounting and insurance, and IT and software and system integration. Along with a custom business strategy, Consulting Simplified also hosts seminars, webinars and workshops.
With a background in sales and marketing, Trilleras brings many years of experience working with business owners, contractors and executives in the construction industry to his new position with Construction Connection. Trilleras will be working specifically on business development and the coordination of construction business-related events, speaking engagements and workshops. He is motivated by his clients' goals and success, and hopes to bring an innovative perspective to the Consulting Simplified program.
"We want to make sure that people know our consulting program is not just someone coming into your office, telling you what to do and charging a fee," Trilleras explains. "We are going to be working with the company and the individuals, so they are part of the process. We are going to put 100% into everything we do because their success is part of our success."
With his invigorating attitude and strong work ethic, Trilleras will bring a fresh perspective to construction businesses in need of a tune-up. Breistol and Leighton are very excited about the newest addition to the Construction Connection team. Together, they will continue in their mission of helping construction professionals across the country become more successful.
ConstructionConnection.com was created out of a need for a more effective and streamlined way for construction industry professionals to get matched with the right industry jobs and with the right industry opportunities. The founders of Construction Connection, both industry professionals themselves, listened to both company and individuals' dissatisfaction with the traditional job boards, the paid resume blasts, the overpriced resume services and overall lack of sympathy toward the individual candidate. They also listened to the dissatisfaction from companies who post jobs only to get many irrelevant results or have to purchase high priced ads to showcase their company. Construction Connection is a patent-pending, one-of-a- kind profile creating / match-making system. The system delivers effective results. Construction Connection saves time, money and aggravation by matching people to people, people to companies, companies to people, and company to company.