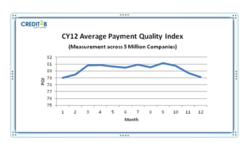 South Plainfield, NJ (PRWEB) February 27, 2013
Smyyth Credit Solutions Group, the world's leading web-based trade credit community that provides unparalleled intelligence on common customers (soon to be rebranded Credit2B), today reported results for its Year End 2012 Aggregate Payment Quality Index ("PQI").
For the year ending December 31, 2012, the average PQI was 80, with a high of 81 and a low of 79 (representing less than 3% variability), indicative of businesses conservatively watching their expenses and meeting their obligations in paying their suppliers throughout 2012. An average PQI of 80 is now once again consistent with pre-2008 recession levels indicating improved payment performance.
The Smyyth Credit2B Payment Quality Index is a weighted and seasonally adjusted index derived from the Credit2B accounts receivables trade payments database of over 100 million payment experiences representing a cross section of 5 million companies covered by Smyyth's Credit2B network members. The Credit2B PQI measures the probability that a trade creditor will collect its money within its terms of sale on a scale of 0 - 100 (100 being perfect), effectively serving as a key indicator of the health of US businesses. A PQI of 80 is as close to optimum as we can imagine in the real economy.
In parallel, other benchmark trade indicators compiled by Credit2B for this same group in 2012 include average high credit and average total owing. These economic indicators also stayed relatively static throughout the year, with only de minimus variations in trade credit extensions or increases in total amount of past due invoices over the annual period. We believe this is a significant indicator of stability with payment terms being met consistently without any overall shrinkage in the overall outstanding credit levels in the economy.
The relatively static behavior of these B2B trade receivable activity indicators suggests that US businesses were remaining stable but cautious in 2012, watching their expenses and keeping bank borrowing and business expansion at modest levels. This is in alignment with the sluggish but steady recovery of the US economy as a whole and likely correlates to business attitudes around key political and macroeconomic events in 2012, such as uncertainty around the US Presidential Election and the impacts of the Fiscal cliff. The Credit2B PQI drop from 81 to 79 in the fourth quarter is reflective of this sentiment as companies were slowing payment going into some of that uncertainty.
About Credit2B
Using patent-pending technology, Credit2B is a platform that empowers peers to exchange trade credit data and share common experiences. Built as a cloud-based application, Credit2B today delivers remarkably, high quality and timely information which is validated by a network of trusted connections. Credit2B is remarkably simple to join, create connections and access huge amounts of information from peers and third party databases through a high-fidelity experience.
About Smyyth
Smyyth provides world class Credit-to-Cash and accounts receivable services that the world's largest companies use to manage risk and optimize cash flow and profits using best practices for credit, accounts receivable, collections and deduction management. The Smyyth technology platform streamlines operations, slashes costs, and increases profits. Smyyth technology and services are built on Six Sigma principles and are SAS 70 Certified. Please visit the Smyyth http://www.smyyth.com for more information about Smyyth products and services.