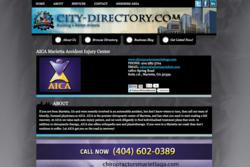 City-Directory is the oldest online directory in Atlanta. After being dormant since 2009, they are re-launching their service this year
Marietta, GA (PRWEB) February 28, 2013
City-Directory is the oldest online directory in Atlanta. After being dormant since 2009, they are re-launching their service this year. Their website will be active in 2013.
Through their manual review process, City-Directory prioritizes companies that are moral and green. Each submission is reviewed and evaluated for its social responsibility, ethics, and planet consciousness. Everyone, from chiropractors in Marietta to body shops in Sandy Springs, can be included. City-Directory prides itself on helping small and local businesses.
This online directory seeks to service businesses that are benefiting their communities. Each company can apply for a standard directory inclusion, and the submission fee is waived if the business applying puts a link to a business recommended by City-Directory on their own site. Each submission is reviewed carefully before it is listed, so consumers can count on the integrity of each business.
Companies can also buy a "featured listing" each month for a banner advertisement on City-Directory's home page and category pages. Another feature is the "small business blogger," which allows businesses to create a page with news and information that will be published in several City-Directory pages. For example, chiropractors in Marietta can now join City-Directory and be listed on the general chiropractic page, the Marietta chiropractors page, and the home page of City-Directory. The company profile also includes customer reviews. With this service, City-Directory personnel review posts, delete spam and inappropriate comments, and optimize content for maximum online exposure. Discounts with an annual subscription are available.
City-Directory's goal is to create a community of promotion where eco-conscious and socially responsible businesses can get optimal online exposure. City-Directory utilizes social media like Facebook and Twitter to connect businesses with new customers. City-Directory will work with small businesses to help them capitalize on opportunities for search engine exposure and online networking. By placing a premium on community consciousness, City-Directory hopes to connect businesses to new customers in Atlanta and encourage companies to better their business by bettering their community.
With the re-initiation of the online directory in 2013, City-Directory is renewing its efforts to support businesses and their communities. Chiropractors in Marietta will be able to connect with conscientious consumers who value ethical businesses and conscientious consumers can rest easy knowing that City-Directory reviewed each business they list. Supporting local enterprise is important to many consumers in this era of big business. Tools like City-Directory can help them to find the businesses, like the chiropractors in Marietta, that best suit their needs and ethics.
The City-Directory re-launch this year is an effort to support local and small businesses, to promote ethical, eco-conscious behavior, and to help conscientious consumers connect with businesses that share their values. With this tool, City-Directory hopes to help businesses, like chiropractors in Marietta, to find a larger client base by helping their online visibility and verifying their high community consciousness while helping consumers find the businesses that will share their same community awareness.