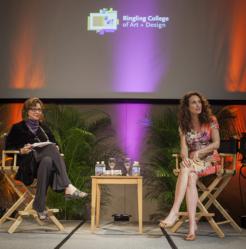 Andie provided our students with an invaluable opportunity to learn about the exciting intersections between the business and art worlds
Sarasota, FL (PRWEB) February 28, 2013
Ringling College of Art and Design today announced that actress Andie MacDowell worked with students and supporters of the College's Digital Filmmaking Studio Lab on Saturday and Sunday, February 23 and 24, 2013. Ms. MacDowell is most noted for her film roles in sex, lies and videotape, Groundhog Day, Green Card, The Object of Beauty, Short Cuts and the romantic hit Four Weddings and a Funeral. She has received an Independent Spirit Award, a Los Angeles Film Critics Association Award for Best Actress, a Golden Kamera and an Honorary César.
In serving as an international spokesperson on behalf of L'Oreal Paris for over 25 years, Andie brought unique insight to Ringling students on integrating film, art and business. "Andie provided our students with an invaluable opportunity to learn about the exciting intersections between the business and art worlds," said Wanda V. Chaves, Ph.D. Ringling College Faculty, Business of Art and Design (BOAD).
Jordon Stone, a Ringling BOAD senior, commented that "Andie talked a lot about striking the perfect balance between inner and outer beauty, much like the balance she has achieved between her art and business. Her own soul-searching certainly inspired many to do the same during her time at Ringling."
In an interview with Heather Dunhill for Sarasota Magazine, Ms. MacDowell stated that "Beauty is an action. It's how you treat people and how you create your life. A creative energy, that's what beauty is."
Ringling College's Digital Film Program students gained interesting guidance from Ms. MacDowell on the sometimes subtle nuances required for great direction. According to Ringling College Digital Film senior Grant Duffrin, "It's always helpful for me as an aspiring director to hear what goes on in the mind of an actor. You get a lot from the behind-the-scenes dialogues these visiting artists provide. Once I know how actors or actresses feel about a certain type of directing style or acting method, I know better how to fulfill the role of the director in the future. Sitting in a lecture is one thing, but when you're able to actually listen to an artist discuss their body of work in this way, you always get a lot more out of it. Andie talked about what roles attract her as an actress and how it was working with other professionals in the field. I think this sort of information is invaluable to my learning and I appreciate the opportunity."
"Suddenly this glamorous fashion, television and film icon appears on stage, said Joan Partridge, past president of Ringling College's Longboat Key Center for the Arts. "As she speaks we are given the opportunity to hear about her career, great stories relating to her huge body of work in films and TV. She's brave, she's interested in feminine rights in the workplace, including quality film roles for women. Meeting this stunning and successful middle-aged woman had a lot of impact on our audience and she offered a marvelous example for our young students."
MacDowell recently made headlines when Hallmark announced she will be starring in 'Cedar Cove,' a two-hour movie which will serve as a pilot for the network's first ever primetime scripted series. 'Cedar Cove' is based on a series of books by Debbie Macomber with MacDowell starring as a small-town family court judge whose career directly impacts the obligations of her day-to-day life. The movie and series are scheduled to air Summer 2013 on the Hallmark Channel.
The Ringling College Digital Filmmaking Studio Lab has brought many Hollywood luminaries to Sarasota to work directly with Ringling Digital Film students over the past three seasons. The 2012 season featured Elijah Wood, Forest Whitaker, Edward Burns, James Woods and Whit Stillman. During the 2012 season Ringling students also worked on feature film productions including Anna Paquin's film "Free Ride" and "Spring Breakers" directed by Harmony Korine and starring Selena Gomez. Master classes prior to 2012 have featured Werner Herzog, Bill Paxton, Martha Stewart, Andy Garcia, Paul Schiff, Oren Moverman, Ben Foster, Ed Carrol and others.
Combined with the strength of Ringling College's Digital Film Program, students are not only learning the art and mechanics of visual storytelling but they are also getting guidance and encouragement from leaders in the entertainment industry as part of their core curriculum.
About Ringling College of Art and Design
Ringling College of Art and Design is a private, not-for-profit, fully accredited college offering the Bachelors of Fine Arts degree in 13 disciplines: Advertising Design, Computer Animation, Digital Film-making, Fine Arts, Game Art & Design, Graphic Design, Illustration, Interior Design, Motion Design, Painting, Photography & Digital Imaging, Printmaking, and Sculpture, and a Bachelor of Arts degree in the Business of Art & Design. Located in Sarasota on Florida's Gulf Coast, the picturesque 48-acre campus now includes more than 110 buildings, and enrolls 1,368 students from 44 states and 53 countries. It is recognized as being among the best and most innovative visual arts colleges in the United States as well as a leader in the use of technology in the arts. http://www.Ringling.edu