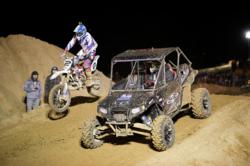 Mesquite, Nevada (PRWEB) February 27, 2013
The world-renowned Nitro Circus crew has left the building, so to speak, and Mesquite, Nevada, will never be the same. The masterminds behind the event were Nitro Circus Co-Founder Gregg Godfrey and Edge Powersports Founder Bryan Green, and Eureka Casino Resort COO Andre Carrier who created a memorable weekend anchored by the Nitro Circus: Beyond Pro event which combined freestyle motocross (FMX) and endurocross into one race for the first time in history. Racing and FMX legend Cowboy Kenny Bartram won the inaugural race which featured such other big-time racers as 2012 X-Games Gold Medalist Mike Brown, 2013 King of the Motos Champion Cody Webb, and Endurocross young gun Ryan Sandoval. All of the Mesquite Off-Road weekend events took place on the property of the Eureka Casino Resort, which was also the main sponsor of the weekend.
"Absolute chaos and pandemonium is the best way to describe it which is honestly really typical for Nitro Circus-type stuff," said Bartram, who has more than 50 FMX event wins in addition to motocross victories in his career. "Just adding the freestyle ramp to an endurocross race is something that has never been done and never been heard of so it was kind of awkward. And then when the UTVs and ATVs were added, it made for absolute chaos. But it was great and it made for a great show. It was kind of cool and it made it way more dangerous, but I have been saying for a long time that if it's not dangerous, it's probably not going to be much fun."
The Nitro Circus: Beyond Pro race was the highlight of Mesquite Off-Road Weekend which brought thousands of Off-Road fans and enthusiasts to Mesquite, Nevada, located 77 miles north of Las Vegas. The weekend kicked off with trail rides which were open to the public and hundreds enjoyed two days of guided tours throughout the southwest desert surrounding Mesquite. Also being enjoyed by the fans was the Powersports Expo Plaze where vendors offered food, drink, memorabilia, and much more. On Friday Night, Tanner Godfrey broke the world record for a Utility Terrain Vehicle jump. He flew 105 feet in a Wildcat 1000 by Arctic Cat. Endurocross racing in all divisions took place on Saturday prior to the Nitro Circus Beyond Pro event.
"I think it was explosive," said Nitro Circus Co-Founder Gregg Godfrey about Mesquite Off-Road Weekend. "That's the word that comes to mind to describe the entire Mesquite Off-Road Weekend. It was a well-rounded, explosive fireworks show with off-road vehicles throw into the mix." For more information visit http://www.MesquiteOffRoad.com
About Eureka Casino Resort: Family owned and operated since 1997, the Eureka Casino Resort is a newly renovated, 214-room resort located in Mesquite, Nevada. Eureka Casino Resort is a longtime supporter of the Wounded Warrior Project having hosted events including a Wounded Warrior Dream Wedding and Andre Carrier, President and COO of Eureka, is the founder of Christmas Can Cure, an organization that provides dream Christmas holidays for Wounded Warriors and their families. The hotel recently renovated each guest room, and built a resort pool and cabana with scenic views of Mesquite's red-topped mesas. The casino is designed for guest comfort and features slot and video poker machines; table games include blackjack, craps, roulette, and more. The casino has Mesquite's only 24-hour poker room with a race and sports book. The Eureka offers three full service restaurants: Experience: The Buffet, Mesquite's largest and only live action buffet; The Mason Street Courtyard; and Eureka's signature restaurant, Gregory's Steakhouse. Eureka hosts weddings, corporate gatherings, and golf groups in its newly remodeled Grand Canyon Ballroom, Aquarium Meeting Room, and other meeting venues. Additional information is available online at http://www.EurekaMesquite.com.