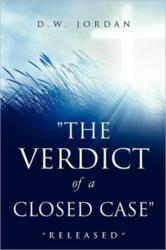 I, therefore, seek to rest my case knowing we can all be a part of the process of healing others.
Jefferson City, MO (PRWEB) February 28, 2013
Author and minister D. W. Jordan, in his new book "The Verdict of a Closed Case: Released," points to the numerous challenges facing society today, but in particular he highlights a key societal issue – the lack of focus on the growing racial divide within our society, a divide that threatens our need for true unity. Some would say the verdict is in on race relations and that the case is closed.
Jordan, a former Missouri Baptist church planter in St. Louis, is now a member of First Baptist, Ellisville. This edition not only traces the history of the difficulties and prejudices encountered by those who have been deemed as different, but it also garners support for those who have contributed leadership and those who have committed their lives tirelessly to build hope and unity where division and resentment reside.
Through the author's personal journey and experiences, he offers hope and reflects upon methods of bringing about unity by building a spiritual, political, and emotional bridge to understand others and to appreciate differences instead of resting in resentment and divisiveness.
Jordan challenges the reader to reflect on what has transpired in the racial journey, to reconsider how far society has come in order that mankind can resolve the divide, and to improve communication between all races. He further challenges readers to help in bridging the divide caused by resentment and bitterness mounting in some who prefer to disqualify the sacrifices of historical events which took place in our nation.
The book shows scriptural support for the quest for unity of all peoples and further encourages all peoples to reach beyond self-serving desires and become part of the solution by reaching across the aisles and welcoming change that brings our society closer to unity than disunity.
All ethnicities and cultures should seek a common thread to weave into a garment of strength, made stronger by our differences and not our divisiveness. Through this strength, multiracial, multicultural, and multiethnic participants will share in the common good for all humanity.
"I, therefore, seek to rest my case knowing we can all be a part of the process of healing others," the author said.