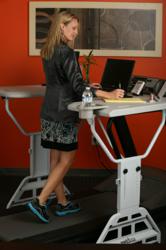 It is alarming that the health risks of poor diet and lack of exercise impacts not only our own health but potentially that of future generations.
Scottsdale, AZ (PRWEB) February 28, 2013
A new study conducted by Duke Medicine and appearing in the Journal BMC Medicine is the first study to show that human paternal obesity may alter genetic mechanisms within their offspring; suggesting that a father's lifestyle choices and environment may impact the health of his progeny. TrekDesk treadmill desk hopes to mitigate the relationship between sedentary office environments and obesity.
"Understanding the risks of the current Western lifestyle on future generations is important," said lead study author and molecular biologist Adelheid Soubry, PhD, a postdoctoral associate at Duke Cancer Institute. "The aim of this study was to determine potential associations between obesity in parents prior to conception and epigenetic profiles in offspring, particularly at certain gene regulatory regions."
More study is needed into the mechanisms involved and impact on future generations. "Our genes are able to adapt to our environment. However, we adjust in a way that may be problematic later," said Cathrine Hoyo, PhD, MPH, a cancer epidemiologist at Duke Medicine. "It is not a change in the sequence of the DNA itself, but how genes are expressed. Some genes may get 'shut off' as a result of environmental trauma."
The analysis utilized data from the Newborn Epigenetics Study designed to test the impact of specific environmental exposures on the genetic makeup of newborns. Researchers studied umbilical cord DNA from 79 newborns to analyze the relationship between parental obesity and an offspring's DNA methylation patterns.
The researchers found a DNA methylation at the IGF2 gene to be much lower in the offspring of obese fathers than the offspring of fathers who were not obese suggesting that paternal obesity represents an increased risk of disease including certain cancers among their offspring. The researchers also noted that that this phenomena may also be related to factors influencing obesity such as diet, associated diseases (e.g. diabetes) and sedentary lifestyles.
"This study is an important start in looking at the effects of environmental exposure on children, not only through the mother but also through the father," related Soubry. "Although we cannot define at this point which obesity-related factor may cause an epigenetic effect, we measured in this study a significant association between paternal obesity and aberrant methylation profiles in the offspring."
"This study mirrors the risks uncovered in an study published in Nature in 2010 showing that a father's weight and diet at the time of their offspring's conception increased their risk of diabetes," stated Steve Bordley, CEO of TrekDesk Treadmill Desk. "It is alarming that the health risks of poor diet and lack of exercise impacts not only our own health but potentially that of future generations. We want to be careful here not to claim that walking at work is a proven antidote to these findings or that we are in any way affiliated with these studies. However, scientists continue to uncover a litany of ill health effects brought on by sedentary lifestyles and poor nutrition. Nature incorporates genetic mechanisms to adapt to changes in any environment and our workplace has changed dramatically in the last generation, apparently our health has begun to pay the price."
Designed to fit any existing treadmill, TrekDesk treadmill desk is an affordable, full sized, height adjustable workstation that allows individuals the opportunity to gain the necessary amount of exercise daily to maintain health, reduce stress, prevent disease, strengthen muscles, boost mood and productivity, without requiring additional time during the day or extra motivation. Wondering how to workout at work? TrekDesk offers the solution.
TrekDesk is currently available for sale online at http://www.trekdesk.com.
Join the TrekDesk "Movement Revolution" to learn more, win a free TrekDesk or ask any health related questions anytime at http://www.facebook.com/trekdesk, or follow TrekDesk on twitter http://www.twitter.com/trekdesk.