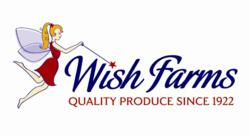 We are always looking for ways to promote affordable and convenient options for eating healthy and making eating at home a priority - Amber Kosinsky, Director of Marketing at Wish Farms
Plant City, FL (PRWEB) February 28, 2013
National strawberry grower and shipper Wish Farms announces an in-store partnered promotion with General Mills extending from the end of February through the beginning March. During this time, a new label can be found on Wish Farms one pound strawberry packages, educating consumers on the benefits of eating breakfast at home and offering $1 off any General Mills Big G cereal.
"We are always looking for ways to promote affordable and convenient options for eating healthy and making eating at home a priority," says Amber Kosinsky, Director of Marketing at Wish Farms.
In the spirit of this promotion, Wish Farms ran their first ever Pin It to Win It contest on Pinterest, encouraging "Berries for Breakfast." This contest required entrants to pin Wish Farms and Wish Farms-inspired images to their entry boards with the hash-tag #berriesforbreakfast. "Pinners" had the chance to win a Nespresso Pixie Espresso Maker, plus a basket of goodies from Wish Farms.
"Wish Farms' brand icon is Misty the Garden Pixie, so what better prize to present the winner than the Pixie espresso maker by Nespresso?," says Elizabeth Peterson, Marketing and Public Relations Manager at Wish Farms. "It just seemed like the perfect match!"
Wish Farms has run several promotions on Facebook since kicking off their Florida strawberry season and is gearing up for their second Grocery Money sweepstakes kicking off this Friday, February 28. People who like Wish Farms on Facebook and enter the contest have the chance to win money to the grocery store of their choice, with prizes totaling over $500.
For more information on produce grower Wish Farms and their upcoming promotions and sweepstakes, visit http://www.wishfarms.com or follow them on Facebook at http://www.facebook.com/wishfarms.
About Wish Farms:
Wish Farms, founded in 1922, is the largest grower and shipper of strawberries in Florida and has been for over 50 years. Nationally recognized for quality and innovation, Wish Farms is a year round supplier of Florida strawberries and blueberries – shipping over four million flats of strawberries, six million pounds of blueberries and one million packages of vegetables a year. Wish Farms utilizes the FreshQC™ How's My Picking?™ Program, a patented tool for traceability, to ensure quality by tying consumer feedback to the harvest time, field location, picker etc.
For more information about Wish Farms, please visit wishfarms.com or facebook.com/wishfarms.