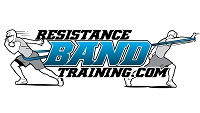 Elizabethtown, KY (PRWEB) February 28, 2013
Widely respected resistance band training company Resistance Band Training Systems has just revealed that it is running a promotional sale on the Home Band Gym product. The sale is currently running. Through tomorrow night at Midnight EST, customers can buy the guide for half price.
The Home Band Gym, created by Resistance Band Training Systems LLC owner Dave Schmitz, is designed to help personal trainers and fitness enthusiasts alike set up a resistance band workout space in their own home or office.
"I know what it's like to have to rely on others or on the availability of workout equipment at a gym or health club," Schmitz offers. "Sometimes you need to work out on your terms, and the Home Band Gym helps you become self sufficient."
For nearly 2 decades, Schmitz has been teaching audiences about the benefits of training with exercise bands. Known as "The Band Man" to his clients and others in the fitness community, Schmitz began using continuous loop resistance bands while working as a physical therapist.
"I noticed when I was helping people recover that resistance band training can be extended far beyond just injury rehabilitation," he says. "The unique properties of resistance bands means that you can train in real world force vectors at varying levels of resistance."
As a result of his findings, Schmitz dedicated his career to helping both athletes and non-athletes get better with bands. During this time, he has trained people of all ages and ability levels, from children to college athletes and even the elderly.
"Resistance band workouts are so special because anyone can do them, provided they are using an elastic workout band that is at the appropriate level of resistance for his or her skill level," he notes.
Now, Schmitz and his company have turned their attention to helping people train with resistance bands without having to leave home.
"Resistance bands aren't like other big, bulky workout equipment," Schmitz says. "You don't need a massive amount of space just to keep and store them. That's why the Home Band Gym is such a great product – it shows you how to quickly and easily find space to work out."
This week, the Home Band Gym is being offered for $19.99, a $20 discount from its regular price of $39.99. Schmitz hopes the discount will "motivate people to get active and start exercising with workout bands."
Along with the digital videos included with the Home Band Gym product, customers will also receive a free bonus guide featuring 33 done-for-you resistance band workouts.
The sale is currently running. It ends tomorrow night at Midnight EST. For more information, visit: http://homebandgym.com/
For more information on training with resistance bands, visit http://resistancebandtraining.com/
About Dave Schmitz: Dave Schmitz is the Co-Owner of Resistance Band Training Systems, LLC and the creator of http://www.resistancebandtraining.com, the only website exclusively devoted to training with large continuously looped resistance bands.
Resistance Band Training Systems, LLC is part of the Fitness Consulting Group family of companies. It is the leading resource for resistance band training. RBT offers education on resistance band training, hosts live events, and offers a training certification and other products.
####