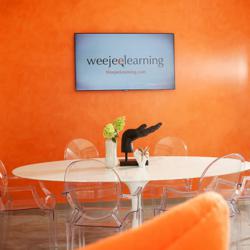 We're no longer overly cautious about HTML5 for e-learning.
Durham, NC (PRWEB) February 28, 2013
WeejeeLearning, a global provider of custom e-learning solutions, has created an HTML5 framework for the development of browser-based mobile learning solutions. The HTML5/CSS3/JavaScript framework allows Weejee to efficiently and economically develop modern standards-based Web applications that deliver learning content to learners across multiple channels and devices.
The company is detailing plans to include Tin Can API statements in the Weejee framework. Tin Can, also known as the Experience API, was developed by Rustici Software for ADL as an improvement upon the SCORM specification. With the Weejee framework, Tin Can statements can be reported to any Learning Record Store, or LRS, providing detailed learner activity data from any domain or environment.
"This framework delivers real value to many of our clients," says Ian Huckabee, principal and co-founder of Weejee Learning. "We've created an expansive library of interactions, or widgets, that can be placed within screen sets, all of which can be re-styled very quickly with CSS. So the number of custom designs is practically unlimited."
In 2011, WeejeeLearning chose HTML5 over native apps as its preferred approach to mobile learning. That year saw staggering progress on the part of browser manufacturers, and by 2012, over 75% of WeejeeLearning's projects were completed using HTML and HTML5.
"We're no longer overly cautious about HTML5," says Tracy Bissette, Weejee's Chief Learning Architect and co-founder. "We got an early start with it, and we've made a lot of progress toward closing the gap between what can be done with HTML5 and what can be done with Flash. There's still ways to go, but day by day we're seeing richer and richer HTML5 experiences."
"We learned a lot the hard way," says Huckabee. "Early on, we were constantly updating our matrices on which HTML5 web apps and CSS3 selectors worked in what browsers and devices. It was time well spent, and our mobile learning division is seeing strong growth, and the Weejee framework is at the core of this growth."
HTML5 is an improved Web development specification that supports the latest multimedia and other elements, like geolocation, across computers and mobile devices. The Weejee framework builds on the stable elements of HTML5 that have been put up for recommendation by the World Wide Web Consortium.
All components of the Weejee framework have been tested for browser and OS compatibility issues, and many can be configured for older browsers as well.
WeejeeLearning, LLC is a custom learning design and development company providing enterprise-wide e-learning solutions to corporations, NGOs and non-profits. WeejeeLearning specializes in highly interactive e-learning, instructional design, mobile learning, and strategies for social learning and collaboration.