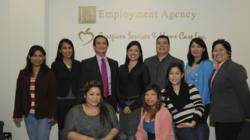 " Caregiver Services... Caring for Life ! "
Los Angeles, California (PRWEB) February 27, 2013
Caregiver Services and Home Care Inc. (CS) in Los Angeles, California, announces 2nd year this year of its in-house "Caregiver University". It aims to provide training, orientation and screening of all Certified Nurse Assistants (CNA), Home Health Aides (HHA) and Caregiver trainees. Training classes have produced conclusive results where participants were indoctrinated with company's Service Philosophy, Vision, Mission, Core Values, standard on Character and Competence, Effective Communication to people with dementia and Alzheimer's disease, CPR and First aid, checking of vital signs, S.T.A.R. philosophy concept and implementation of 'Plan of Care' needed to complete excellent senior care incorporated in CS "Circle of Care'.
CS operating system is spearheaded by a strong Management Team with various training in USA and other international countries with combined management work experience of more than 50 years. CS Los Angeles head office guarantees a strong back office support equipped with highly qualified individuals handling the important departments like Staffing, Human Resource, Training department, Case Management department, Finance department, Business Development and Marketing department. These enable all service area and clients the much needed immediate healthcare solution, a distinctive advantage over other existing home care providers. For the start of this year, barely 2 months, the company has served more than 10 new clients all over Los Angeles, Orange and Ventura County.
CS continue to provide home care solution to family members experiencing healthcare problems with their senior relatives living by themselves or with a spouse. CS 'Circle of Care' guarantees continuum of care and outstanding benefits to clients, family members and retirement facilities.
These are the various benefits that CS senior clients and family members have experienced as articulated in their testimonials and feedback: 'Peace of mind' once they signed up and start with the service, substantial monthly savings on service rates (ranging from $500 -$1,500 savings) as compared to other companies and still maintain quality and better service, preserving client's dignity even with their health limitations, respect and understanding of their individuality thereby promoting well-being and better living condition, helping seniors live longer and live better, easier lifestyle with total or minimal assistance in Activities of Daily Living (ADL), safety from risk of fall, readily available health information about their family members day-to-day living and progress, high standard of service rendered and immediate staffing solution as guaranteed by Human Resource and Staffing department of CS. Call hotline #213-351-9100 on call 24 hours a day or visit http://www.mycaregiverservices.com for your immediate in-home care service help and free consultation /evaluation.
CS is a credible member of reputable home care associations like Ventura County Home Care Association and an active member of a strong business network group 'Power Connections' and accredited / affiliated with Alzheimer's Association, Council on Aging, Caring.com, AmericanTowns.com, Thumbtac.com and other senior healthcare agencies all over USA.