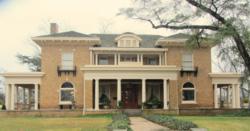 This estate home is truly unique among the historic homes for sale in Georgia.
Atlanta, GA (PRWEB) February 28, 2013
The Historic home at 530 Thomaston Street, Barnesville, GA 30204 is a one of a kind estate home designed by famed Atlanta architect Eugene Wachendorff. It continues to live on into its second century as a venue for prestigious Barnesville GA events. The home was originally built in 1912 by the Walter B. Smith Sr. family who made Barnesville famous for buggy manufacturing. The home was designed by famed Atlanta architect Eugene Wachendorff. The estate reflects the timeless architecture of German Bauhaus Crafts Movement of the Chicago School that integrated the artist with the craftsman.
A majestic entry beckons visitors to enter this exquisite 12,000 sq. ft.home that has 7 bedrooms and 4.5 baths. This one of a kind home provides plenty of room for entertaining large groups on the main level. The home has plenty of light in the day and a warm glow from Wedgwood Chandeliers and Sconces in the evening. The main level of the home also features a music room, library and a butler's pantry.
This spacious home features a hand carved staircase that highlights the collaboration between the artist and the craftsman of the Bauhaus Movement. The upper level of the home has two spacious master suites which include his and hers dressing rooms separated by master bath with tub, shower & a foot washing basin.
The surrounding property is professionally landscaped and lighted to showcase the house both day and night. Stately trees and a beautiful fountain make the outside space an inviting place to relax. In addition there are terraced gardens and a hidden secret garden for quiet meditating and reflecting.
Sandra Jones, spoke about the home and the numerous events that have been held there. "This is truly unique among the historic homes for sale in Georgia. It has has been beautifully maintained through the years. Many charity and other elegant events have taken place in this grand and inviting home. It has hosted seated dinners for 200 visitors for fundraisers such as the Local Barnesville Academy, The American Cancer Society, Local DAR Reception, a reception for the Griffin Coral Arts following a concert at Gordon State College and many wedding receptions."
Harry Norman, Realtors, North Georgia Office is located at 200 Foothills Parkway, Marble Hill, GA 30148. Harry Norman, Realtors, a HomeServices of America, Inc. Company and a Berkshire Hathaway Affiliate. All rights Reserved. Licensed in Georgia and North Carolina. We are an equal housing opportunity provider. We do not discriminate on the basis of race, color, sex, national origin, religion, disability or familial status (having children under age 18). Website development and web marketing supplied by Atlanta SEO company, Interactive Search Marketing.