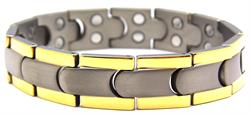 We have received many requests from our customers for even stronger magnetic bracelets"
Maria Weber, Vice President
BELLEAIR BLUFFS, FL (PRWEB) February 27, 2013
WellnessMarketer.com has added a line of new high-powered magnetic bracelets to its magnetic jewelry products. This new line of bracelets, which can be used by both men and women, features 5,000 gauss magnetic power in every link to provide greater magnotherapy properties.
"We have received many requests from our customers for even stronger magnetic bracelets so we are proud to announce a hand-picked selection of very popular magnetic bracelet styles that feature an incredibly strong 5,000 gauss magnet in each individual link," stated Maria Weber, Vice President of WellnessMarketer.com. "We even offer two magnetic bracelet styles with two 5,000 gauss magnets embedded in every single link – our Titanium Civility magnetic therapy bracelet and our Classic Two Stack Titanium magnetic bracelet. Our customers love our magnetic bracelets for their magnetic properties, and they greatly appreciate the fact that we offer custom-sizing."
The new line of 5,000-gauss magnetic bracelets is being offered in a variety of attractive stainless steel and titanium designs for both men and women. Designs include both stainless steel links with 24-karat gold and silver plate, gold-plated titanium magnetic bracelets, and attractive titanium with 5,000-gauss North Pole magnets in every link. The bracelets can also be custom-sized to fit any wrist to deliver maximum magnetic therapeutic value.
Prices for the new line of 5,000-gauss bracelets start below $30 and WellnessMarketer.com offers free shipping to all customers within the United States who buy the magnetic bracelets.
To view the complete line of 5,000 gauss bracelets for men and women, please visit our 5,000 Gauss magnetic bracelet section.
About WellnessMarketer.com
WellnessMarketer is a family-owned company that has been committed to serving wellness-oriented customers across the globe for more than 12 years. Their business goal is to be a go-to source of products that makes people look and feel their best. In order to achieve their vision of healthy and happy people, they offer high quality products at fair prices, excellent customer service and a quick and reliable shipping method.
WellnessMarketer is truly grateful for the opportunity to serve its customers. They pledge to treat all customers with respect and integrity. Knowledgeable customer service representatives are ready to answer any questions.
For more information about WellnessMarketer and the wellness products they provide, please visit WellnessMarketer.com.
Contact:
Maria Weber
Website: WellnessMarketer.com
Phone number: 727-585-3323