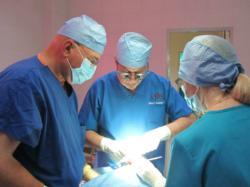 Our missions are not just about cleft lip and palate surgery. They are about giving the gift of hope.
Huntington, NY (PRWEB) February 28, 2013
Dr. Elliot Duboys, MD, FACS, a board certified plastic surgeon, and head of Associated Plastic Surgeons & Consultants, PC of Huntington, New York, recently completed a ten day medical mission with a surgical team to Siargao, Philippines. Dr. Duboys was co-director of the Cleft and Craniofacial team at SUNY Stonybrook for over 22 years. During the 10 day trip, he and a team operated on over 115 children with congenital deformities such as cleft lip and palate.
Dr. Duboys, a passionate humanitarian, has participated in f international surgical missions providing free surgery to those in need for over 20 years. He has completed a total of 18 missions, including Guatemala, Honduras, Columbia, Philippines, Ecuador and Haiti and Zambia. Counting these experiences as the most gratifying of his life's work, Dr. Duboys plans to continue promoting his missions as he travels across the continents.
"I am so honored to be a part of such an amazing team whose work truly benefits the children and without our help, these children with be shunned from society." said Dr. Duboys. "Our missions are not just about cleft lip and palate surgery. They are about giving the gift of hope."
By providing care and establishing long term medical solutions within communities, Dr. Duboys and his group are able to provide free corrective surgery in a safe environment for children around the world who are suffering from a cleft lip or palate and associated craniofacial deformities.
Dr. Elliot Duboys, a board certified plastic surgeon since 1985, has provided top quality, personalized care to his patients for more than 30 years. He specializes in Cosmetic, Pediatric and Reconstructive Plastic Surgery. In addition, Dr. Duboys is a member of many prestigious organizations including the American Society of Plastic & Reconstructive Surgeons, the American Burn Association, multiple local and regional Plastic Surgical Associations, and the American Cleft and Craniofacial Association. He has been named to the Castle Connolly Guide to the Best Plastic Surgeons in New York since 1997 and has made the list of Newsday's Top 10 Plastic Surgeons since 2010.