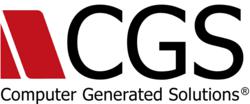 We are excited that this conference will enable us to share that knowledge with those who can most benefit from it and enhance their day-to-day operations.
New York, NY (PRWEB) February 28, 2013
Computer Generated Solutions (CGS), a leading global provider of technology solutions and services, announced today that they will be attending this year's SPESA conference on March 19th at the Anaheim Hilton Hotel in Anaheim, California.
SPESA's third educational conference on "Advancements in Manufacturing Technology" will feature insight from industry experts on improving quality and manufacturing efficiency while reducing lead-time. As the largest trade association in the Americas, SPESA is devoted to the advancement of suppliers of machinery, ancillary equipment, parts, services and technology and other products and services used for the development, manufacture, or distribution of sewn products.
Among the dynamic list of speakers will be Jim Hoerig, Executive Vice President of Manufacturing Solutions at CGS. His presentation, "True Production Cost, How to Control It," will discuss the challenges of controlling manufacturing costs and what can be done to stay on top of this very complex problem.
"I am extremely honored to have the opportunity to speak at such an important event like SPESA," said Hoerig. "CGS has been involved in the manufacturing industry for nearly 30 years and has acquired a wealth of knowledge during that time. We are excited that this conference will enable us to share that knowledge with those who can most benefit from it and enhance their day-to-day operations."
As a recognized leader in manufacturing shop floor control, CGS's Leadtec provides powerful tools to monitor factory operations, improve productivity, reduce excess costs and throughput time while helping companies run a proactive rather than reactive shop floor.
About CGS
For almost 30 years, CGS has enabled global enterprises, regional companies and government agencies to drive breakthrough performance through technology and services. Headquartered in New York City, CGS employs more than 5,000 professionals across North America, Latin America, Europe and Asia. With global delivery capabilities, expertise across leading platforms and deep experience in multiple industries, CGS has become the IT partner of choice for thousands of organizations worldwide. CGS delivers a wide array of proprietary and third-party business applications, technology, business services and business process outsourcing solutions, including customer care, technical support and corporate learning and training. For more information please visit http://www.cgsinc.com and follow us on Twitter at http://www.twitter.com/cgsinc as well as Facebook at http://www.facebook.com/ComputerGeneratedSolutions.
About Leadtec
Leadtec by CGS is a comprehensive, state-of-the-art computerized shop floor control and incentive payroll solution designed to capture production events in real-time or batch data collection mode. The information and visibility provided by Leadtec empowers operators to monitor and increase productivity, while also enabling managers to prevent and resolve production issues before they escalate. Leadtec benefits manufacturers through improved profitability, reduced production costs, accelerated throughout time, and improved product quality. Worldwide in more than 20 countries companies trust Leadtec to better manage their manufacturing operations. Leadtec is a trademark of Computer Generated Solutions, Inc.