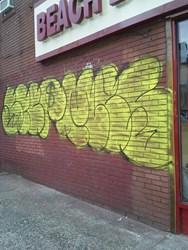 Parsippany, NJ (PRWEB) February 28, 2013
BEACH BUM TANNING Bayside, helps to clean up the community. Employees removed the graffiti covered wall on the side of Beach Bum Tanning Salon.
Beach Bum Tanning has over 50 locations in the Tri- State area, and the Bayside location has been part of the community for over 10 years.
"We care about our neighborhood," says Victor Hernandez, Queens District Manager, Beach Bum Tanning.
"We live here, we work here," states Dominique Fortier Salon Manager.
BaysideLiveTV.com filmed as employees removed the graffiti from the walls. The segment will air later this week.