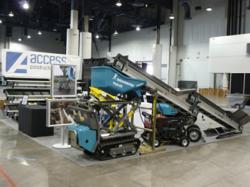 This year's World of Concrete was even bigger than the well-known Consumer Electronics Show
(PRWEB) February 28, 2013
During the World of Concrete showcase held in Las Vegas, Nevada from February 4-8, Access Construction Equipment unveiled the Miniconveyor and the Messersi Buggy.
The World of Concrete is an annual international event dedicated to the commercial concrete and masonry construction industries. It featured exhibits from leading suppliers as well as demonstrations and competitions, a world-class education program, and seminars to help business owners in the concrete and masonry construction industries. This year's World of Concrete was even bigger than the well-known Consumer Electronics Show, filling up the silver and gold lots as well.
Access Construction Equipment, the manufacturers of the Miniconveyor, spoke with numerous attendees, including the many demolition and excavation companies in attendance. Industries such as construction, demolition, renovation, mining, and even disaster relief are using Miniconveyors, which are portable conveyor belts.
A major goal of the World of Concrete showcase is to provide opportunities for business owners to make new contacts and strengthen industry connections. The showcase puts tools and strategies businesses need to win more jobs, increase profits and streamline business all in one place. Seminars help people make their business more efficient with new skills, practical solutions, and creative strategies as well as teach about safety training and courses businesses need in today's economy. This is a place where people can see, touch, and test new products under realistic jobsite conditions so that business owners can capitalize on the latest trends.
One of these innovative products is the Miniconveyor. Miniconveyors are portable material conveyors that are lightweight, durable, and adaptable to many terrains and situations, and they can efficiently move materials from 80 to 125 feet per minute. Miniconveyors come in different lengths and can be connected to traverse different conditions, such as corners, inclines, small spaces, and over or around obstacles. The Miniconveyors can be set up swiftly as a solution for tight access requirements. The Miniconveyor is constructed from aircraft grade aluminum sides, a stainless steel slider bed top and bottom, and high-density foam core. Their small size, lightweight construction, and easy set-up allow them to be used in a variety of industries.
The unique tool is easy and safe to use and requires no training costs and no personnel changes. Its portability makes it especially useful to those with transient worksites. Miniconveyors can be used to remove rubble and debris from demolition sites or disaster sites, allowing workers to stay away from potentially hazardous material. Miniconveyors can also be used in construction, excavation, landscaping, tunneling or mining sites and more.
At the World of Concrete Showcase, Access Construction displayed their Miniconveyor system and Messersi Buggy to many enthusiastic responses. This great event displayed the versatility of the Miniconveyor and Messersi Buggy to a large group of industry professionals. Networking can be very important to the construction industry. The World of Concrete showcase event puts innovative products like the Miniconveyor together with the people who can benefit the most from pioneering tools, construction experts.