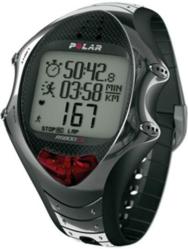 Professional athletes and human performance labs are a very good indicator of where the best and most sophisticated products are represented and you'll see Polar RS800CX heavily represented in both worlds
Bozeman, MT (PRWEB) February 27, 2013
The Polar RS800CX is still a "go to" heart rate monitor for top endurance athletes which is why Heart Rate Watch Company has named it the top product for pure heart rate based training.
"If you go to world-class sporting events you'll see many top athletes still use this product, even 5 years after its introduction, because it is truly that good", says Rusty Squire, president of the Heart Rate Watch Company. He adds, "This watch does rest and recovery heart rate and uses Polar Professional Trainer software which is still the most advanced heart rate training software Polar has".
The Polar RS400 and RS800CX all are favorites of University Human Performance Labs which, according to Squire, is another good indicator of which products truly gather the best possible data. "Professional athletes and human performance labs are a very good indicator of where the best and most sophisticated products are represented and you'll see Polar RS800CX heavily represented in both worlds", says Squire.
Polar RS800CX even looks at heart rate reserve (HRR) which is the difference between maximum heart rate and resting heart rate, so athletes know numerically how many beats left they have in the tank. "It really is quite a sophisticated product that is customizable, has a barometric altimeter and all the goodies you would expect from a first-class heart rate monitor", says Squire.
The RS800CX even works with the new Polar G5 GPS sensor, which is a 1.5 ounce GPS sensor and battery that clips right into a clip that users can place in bike jersey pockets or clip to shorts. "Having the GPS outside the watch makes the watch lighter and the watch does not have to be re-charged", says Squire. He adds, "The extra 1.5 ounces feels a lot heavier on your wrist then it does riding on your waist where it goes unnoticed".
"While often overlooked, the Polar RS800CX is still one of the best heart rate monitors ever made and you don't have to go much further than any world-class endurance competition to prove that to yourself", says Squire.