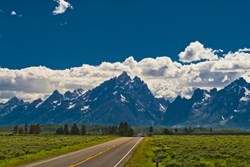 "Our hotels are all located near national parks and we want to support and protect our national gems," said Tod McClaskey
Jackson Hole, Wyoming (PRWEB) February 28, 2013
Western Inns, a group of boutique hotels located near some of the U.S.'s most popular national parks from Yellowstone to Yosemite in California, Wyoming, Washington, and Oregon, is introducing a new National Parks Package to support national park visits in the American West. Visitors who stay at a Western Inns property on their way to or from visiting a national park on any of the National Park Service Free Entrance Days in 2013 will receive a 10-percent discount on room rates. The National Parks package also includes a loyalty program with additional benefits up to a 25-percent discount on Western Inns stays.
"Our hotels are all located near national parks and we want to support and protect our national gems," said Tod McClaskey, Western Inns owner.
Upcoming free national parks entrance days announced by the National Park Service and accepted for the Western Inns' Free Parks Day Discount include:

April 22-26 – five days during National Park Week
August 25 – National Park Service Birthday
September 28 – National Public Lands Day
November 9-11 – Veterans Day weekend
Western Inns' Creekside Inn is located in Bishop, Calif., on the way to Yosemite and Death Valley National Parks; its Port Angeles Olympic Lodge is near Olympic National Park, enjoying views of the Olympic Mountain Range and the Strait of Juan de Fuca; just east of the Cascades and north of the California border, the Olympic Inn in Klamath Falls, Ore., is surrounded by rivers, lakes, mountain vistas, and Crater Lake National Park; and the Wyoming Inn in Jackson Hole, Wyo., is conveniently en route to Yellowstone and Grand Teton National Parks.
In addition to its Free Parks Day Discount, Western Inns' properties offer a National Parks loyalty program to encourage travelers to visit national parks near all of the Western Inns properties. For each stamp in a provided "national parks tour card," guests will receive a discount for future visits as follows:
One stamp from a Western Inns hotel earns 10 percent off the lowest rate on a stay at second property
Stamps from two Western Inns hotels earn 15 percent off a stay at a third property
Stamps from three different Western Inns hotels earn 20 percent off the room rate and a gift basket at the fourth property with handmade and locally produced items
Four stamps, one from each of the Western Inns hotels, earn 25 percent off Western Inns room rates on your next stay at any Western Inns property.
The Western Inns, basecamps for America's national parks, are boutique hotels owned and operated by Tod McClaskey. The hotels are known for their outstanding customer service and comfortable accommodations. All of the properties are top rated on TripAdvisor. For additional information on the properties, visit http://www.wyominginn.com/western-inns-portfolio/sister-properties.htm.
Media Contact: Darla Worden, WordenGroup Public Relations, darla(at)wordenpr(dot)com, 307.734.5335