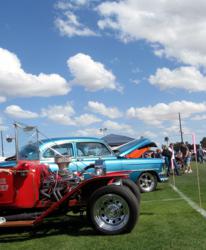 YUMA, ARIZONA (PRWEB) February 27, 2013
With citrus blossoms perfuming the air of warm days and cool nights, March is the perfect time for a road trip to Yuma, certified by Guinness World Records as the sunniest place on earth.
Kicking off the month's signature events is Midnight at the Oasis (March 1-3), one of the largest classic car shows in the Southwest. Presented by the Caballeros de Yuma, this is the 22nd year that classic car enthusiasts from throughout the region have gathered here.
The weekend kicks off with an old-fashioned "cruise in" with hundreds of cars wending through the streets of Yuma to the green and grassy grounds of the Ray Kroc Baseball Complex.
A triple-feature Friday night concert features Yuma's own '80s band, Checker'd Past, followed by Led Zepplica, a Led Zepplin tribute band, and wrapping up with The Atomic Punks, who rock it Van Halen-style.
At the Saturday show and shine (9 a.m.-4 p.m.), visitors can admire nearly 1,000 vintage (1972 & older) automobiles and enjoy lots of fun festival food, kiddy rides and a Pinewood Derby. The gates reopen for a double-header concert, with Satisfaction, a Rolling Stones tribute group performing at 7 p.m. and The Stars of Beatlemania at 9 p.m. The event wraps up on Sunday with a show and Shine from 9 a.m.-1 p.m. -- and the announcement of the lucky winner of the raffle drawing for a cherry '57 Chevy.
The good old days never got any better than this! For the full schedule and more info, click on the photo at left or go to http://www.midnightattheoasis.net .
Look to the skies March 9, as the 51st annual Marine Corps Air Station Yuma Air Show takes off with a tribute to Korean and Vietnam War veterans.
This year's show features "The Commandant's Own" U. S. Marine Drum & Bugle Corps, along with an array of military and civilian aircraft and performers aloft, plus lots more static displays on the ground for a close-up look. For details about the planes and units that will be on hand, a detailed schedule and parking information, click on the photo or go to http://www.yumaairshow.com.
This show is free to all as a token of the Marine Corps' appreciation of the year-round welcome they receive In Yuma.
Also sprouting March 9 & 10 is YVB's own award-winning spring event, Yuma Lettuce Days, featuring Chef Ben Ford of Ford's Filling Station in Culver City, Calif. (contact us if you missed the release). More spring events info is available on our website, http://www.visityuma.com.