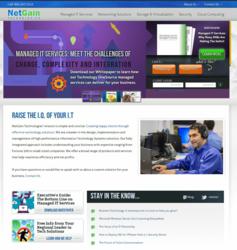 It is crucial that our website make it easy for our clients to access information conveniently. - NetGain Technologies CEO Mark Jacobson
Lexington, Ky. (PRWEB) February 28, 2013
NetGain Technologies, a regional leader in high-performance IT solutions, is proud to announce a new look and functionality for their website – http://www.netgainit.com. The new design and layout of the website makes it easier for both current clients as well as new visitors to find information.
"Due to the complexity of the products and services we provide to businesses, it is crucial that our website make it easy for our clients to access as much information as possible so that they can conveniently gain an understanding of what we do and the level of support we can provide," said NetGain Technologies' CEO Mark Jacobson. "I believe our new website accomplishes this."
Soon the website will also house NetGain Technologies' client portal, allowing them to access their client information – such as what services are available to them – through the website.
"Our new website positions NetGain Technologies with a much better online presence," said Bret Anderson, NetGain Technologies Vice President of Marketing and Development. "Not only does it display our company better, but it will add a new dimension of service for our clients and our number one goal is their satisfaction."
Technical expertise is also well presented on the new website with NetGain Technologies' company blog. Company engineers write posts about a variety of technology disciplines and trends to explain what is going on in the world of technology. Through improved social media integration, people can also easily access NetGain Technologies' Facebook, Twitter, YouTube, Google+ and LinkedIn profiles to keep up with the latest news about the company and technology trends.
About NetGain Technologies:
NetGain Technologies is a leading provider in the design, procurement, implementation and management of high-performance IT solutions. With services ranked among the best in the world by MSPmentor and CRN Tech Elite, a multi-state regional footprint and almost three decades of experience; we've helped over 1,000 unique clients thrive by leveraging our best-in-class service and support programs. Our highly qualified and experienced professionals align our best-in-class support programs to meet our clients' needs for positive business outcomes. Learn more at http://www.netgainit.com