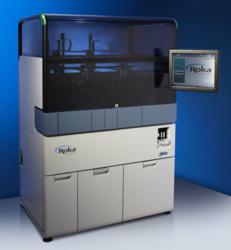 Warren, NJ (PRWEB) February 28, 2013
Roka Bioscience announced today adoption of the Atlas® System at Minnesota Valley Testing Laboratories, Inc. (MVTL). MVTL, a private independent testing laboratory headquartered in New Ulm, Minnesota, has implemented the Atlas System along with the Atlas Listeria Detection Assay and the Atlas Salmonella Detection Assay, both of which have received AOAC Performance TestedSM certification. MVTL plans to use the Atlas System for molecular pathogen detection of Salmonella and Listeria in food and environmental, food ingredient, and finished product samples.
Thomas R. Berg, CEO of MVTL, explained, "The Atlas System from Roka Bioscience is a life changer for us. We always look for ways to enhance our service capabilities. The Atlas System gives us major improvements in both data quality and turnaround time for our clients. The Atlas System also offers efficiencies through automation. These are key components in our efforts to control costs."
The Atlas System is an innovative fully automated molecular instrument for the detection of pathogens in food and environmental samples. This instrument utilizes a simple three-step procedure—Enrich, Transfer, Automate—and is capable of processing over 300 samples in 8 hours. The system's continuous workflow and high throughput provides greater efficiency, flexibility, and dynamic scalability to meet the ever-increasing demands placed on food safety laboratories.
"MVTL is committed to the highest quality data and prompt service," said Paul Thomas, CEO and President of Roka Bioscience. "The accuracy, speed, and flexibility of the Atlas System, as well as its ease of use, make it an ideal value-added solution. We are excited to partner with MVTL and work with them to realize the overall value the Atlas System brings to their food safety testing."
Minnesota Valley Testing Laboratories
Minnesota Valley Testing Laboratories provides a broad range of services to business and federal, state, and local government in areas of food, agribusiness, environmental monitoring, pollution control, regulatory compliance monitoring, and industrial process control. Laboratory capabilities include the analysis of samples from a wide variety of matrices including: food products, environmental swabs, drinking water, ground water, surface water, wastewater, hazardous waste, coal, fuels, biosolids, feed, soil, plant tissue, and fertilizer.
Roka Bioscience
Roka Bioscience is a privately held company focused on developing and commercializing innovative solutions based on molecular technologies for the industrial markets. The company's scientific platform is based on proven, proprietary technologies used widely in clinical diagnostic testing and now being introduced into food safety and other industrial markets. Roka's current product line provides food safety professionals with a fully automated molecular pathogen detection solution that delivers rapid, accurate results and improved laboratory efficiencies. For more information, visit http://www.rokabio.com.
Contact:
Steve Sobieski
Chief Financial Officer (908) 605-4621
ssobieski(at)rokabio(dot)com