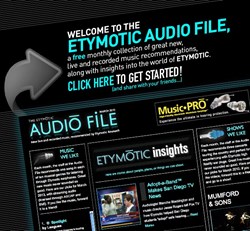 Our team of music journalists and the audiophiles at Etymotic come across great music every day, and we will now get to share our favorites with Etymotic's customers
Elk Grove Village, IL (PRWEB) February 28, 2013
Etymotic Research, manufacturer of products such as high-fidelity ETYPlugs® Earplugs, custom Musicians Earplugs™, the new Music•PRO™ Electronic Earplugs and a full line of high-fidelity, noise-isolating earphones, today announced the launch of a monthly newsletter delivered by e-mail to its customer database. Each edition of the Etymotic Audio File recommends 10 recently released songs in a variety of musical genres and links to sites where the songs can be heard. The Audio File also recommends national concert tours, linking to full reviews and video clips, and adds stories about new Etymotic products, promotional opportunities and members of the Etymotic community.
"We live in a busy world with access to infinite entertainment choices," said Audio File editor and In Tune Partners editorial director Emile Menasche. "There's so much great new music to be played through Etymotic's superior line of earphones and great live music to listen to through Etymotic's high fidelity hearing protection – if you have the time to sort through and find it. Our team of music journalists and the audiophiles at Etymotic come across great music every day, and we will now get to share our favorites with Etymotic's customers – people who care passionately about great sound. We're pretty excited about that!"
To register and receive the Etymotic Audio File, go to etymotic.com.
About Etymotic
Etymotic Research leads the way through all of its company initiatives to educate, advocate, protect, enhance and provide the enjoyment of the listening experience for consumers of all ages. For more information about Etymotic, its hearing wellness mission and its products, please visit http://www.etymotic.com.
About In Tune Partners
In Tune Partners publishes printed and electronic music publications and produces events for music students, teachers and fans. Its sister company, Westchester Media publishes music magazines and creates and manages music conferences and concerts.