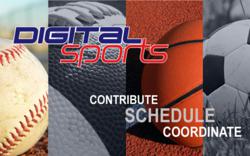 Yardley, PA (PRWEB) February 27, 2013
DigitalSports®, the nationwide platform for high school athletics coverage powered by students, is excited to announce the launch of their expanded video sharing service. This free offering provides student videographers a national platform to showcase their schools' athletic events, as well as their own talents, to an audience including each school's sports community, crosstown rivals, national college recruiters, admissions counselors, and national newspapers.
School spirit plays an integral role in the lives of high school students and is built through decades of cherished traditions in their communities. "The passion students have for their school is so clearly evident when you watch these submissions," said Patrick Murphy, Product Manager of DigitalSports. "We are proud to be able to showcase that creativity and pride to the nation."
"Uploading video isn't just limited to game film. There are tons of pep rally videos and in-game chants that have gone viral. DigitalSports is the perfect place to associate that video to your specific school page. It draws even more attention from your community and emphasizes that school spirit," said Christopher Decker, DigitalSports' Edutainment Marketing Specialist.
Students and other community members can start submitting their highlight footage by logging on to http://www.DigitalSports.com/upload-video. After filling out a registration form, a thumbdrive or CD is sent to DigitalSports' headquarters where staff will process, place, and promote their work. Athletic directors and other staff members at each member school have full editorial control over what videos they would like to appear on their DigitalSports page. DigitalSports requires all submitters to first fill out a permission form to ensure they adhere to the policies of DigitalSports and of their own institution.
About DigitalSports
DigitalSports, powered by LeagueMinder®, informs, inspires and entertains by using sports and the achievements of student-athletes to improve literacy through community-generated content. DigitalSports provides a safe environment for building a community around local high school and youth sports teams. We provide the tools to upload and share photos, videos and stories that range from real-time game coverage to insightful essays with the assistance of our professional sports writing tips. DigitalSports is also the one-stop shop for national and local high school sports schedules, scores and statistics. Find your school and get inside the game!