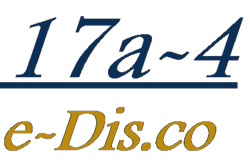 ...the Lync platform allows institutions to take advantage of collaborative communication while still adhering to corporate compliance...
Millbrook, NY (PRWEB) February 28, 2013
17a-4 llc is an e-messaging compliance and litigation firm with a focus on software development. They design and implement e-messaging solutions for institutions required to comply with SEC, FINRA and applicable regulations. 17a-4 is now seeing Microsoft Lync ™ as the preferred communication platform among leading institutions.
Microsoft's Lync (previously OCS) is an extremely effective platform for managing, among other forms of communications, instant messages. However, many institutions need to capture these IMs and format them for archival storage. 17a-4's DataParser is a very cost-effective software product that can not only capture the messages, but also format the content and manage the ingestion of that content into an institutional archive. Microsoft Lync is now the leading platform being supported by the 17a-4 DataParser, as well as the most requested module for trial or demo.
The DataParser for Lync runs as a service to query the Lync SQL database. IM content, including RTF (rich text) and HTML, is then reformatted into compatible archival e-messaging file formats. By using Lync's Public IM Connectors (PICs), an institution can also leverage Lync to capture external instant messaging. All IMs can be pushed through the Lync server, which many clients find more effective than using proxy servers. Additionally, Lync offers GroupChat for multi-party interactive topic based discussions. 17a-4's DataParser can capture all GroupChat content via the GroupChat Compliance Server. The information is formatted as an email message in the archive that can be accessed and viewed in the archive format or in the original GroupChat format. Compliance and legal can view all parties involved in a particular chat, for how long, what was discussed and when it took place. Each chat room discussion will be automatically captured, on a daily basis, with all live and historical data.
"The accessibility and functionality of the Lync platform allows institutions to take advantage of collaborative communication while still adhering to corporate compliance policy and procedure," says Charles Weeden, Managing Partner, 17a-4 llc.
For more information on the DataParser for Microsoft Lync contact sales(at)@17a-4(dot)com, call (212) 949-1724 or visit http://www.17a-4.com. 17a-4 llc provides e-messaging compliance and litigation expertise and offers information governance solutions designed to comply with regulatory and technical requirements for cross industry clients. They are an SEC designated 3rd party and provide accompanying Letter of Undertaking services. Extensive e-discovery services are handled by the e-Dis.co division. 17a-4 and e-Dis.co are based in New York City but operate remote offices nationwide.