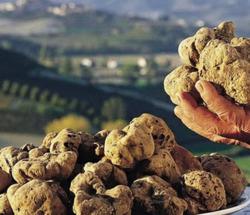 Laurel Pine, Mirepoix USA founder stated, "This luxury culinary tour features some of the most exciting gastronomic highlights and off-the-beaten path artistic treasures of central Italy."
Reno, NV (PRWEB) February 28, 2013
Mirepoix USA, a leading online purveyor of specialty gourmet foods and traditional French foods, has designed an exclusive Italian culinary tour, which will focus on the region's celebrated white truffles, exquisite Italian cuisine, and artistic treasures in Umbria, Emilia-Romagna and Tuscany. The culinary tour begins Sunday, October 20, 2013 in Rome, and concludes on Monday, November 4, in Milan. The last three days of the tour are an optional extension to Peidmont for the Truffle Festival in Alba.
"Truffles & Treasures of Italy" includes three nights in Assisi, three nights in Bologna, one night in Polesine Parmense (on the Po River near Zibello), six nights in Vorno (near Lucca), and two optional nights in Grinzane Cavour (near Alba). Mirepoix USA's fifteen-day culinary tour includes exclusive tastings, chef-led cooking demonstrations, private guides, dining at Michelin-starred restaurants and accommodations in unique, four and five-star properties.
This unique small-group luxury tour through the heart of Italy will be escorted by Mirepoix USA founder, Laurel Pine and is limited to 14 participants. According to Mirepoix USA, Truffles & Treasures of Italy is one of the most unique guided tours Tuscany, Umbria and Emilia Romagna has to offer. Laurel Pine, Mirepoix USA founder stated, "This luxury culinary tour features some of the most exciting gastronomic highlights and off-the-beaten path artistic treasures of central Italy."
The program will include multiple meals featuring Italy's famous white truffles, a truffle hunting excursion in Umbria, private tastings of premium olive oil, traditional balsamic vinegar, local specialty foods and local wines, a dinner at the private home of a Bolognese Countess, a six-day culinary program at a Tuscan villa (Villa Lucia), and for those who choose to stay for the extension, two days at the Alba Truffle Festival.
During the six days at the Tuscan cooking program, a total of seven meals will be demonstrated in the villa's expansive kitchen. Some examples of the fine Italian cuisine include: Seared Sea Scallops with White Truffle Risotto, Grilled Beef Tenderloin with Porcini Fritte and Foie Gras Demi Glace Reduction and Housemade Pappardelle with Porcini and White Truffle Cream. The villa's executive chef, David Verzello, is an Italian American who has earned multiple honors while studying at the renowned California Culinary Academy. Mr. Verzello works with the cooking school at Drager's in San Mateo, California, and is currently writing his first cookbook on seasonal Tuscan cuisine.
"Truffles & Treasures of Italy" is an all-inclusive trip. Breakfast and at least one large meal including DOC wines, mineral water, and coffee provided daily. Entrance fees to all museums, private tours and tastings listed on the itinerary, service charges and tips for meals designated on the itinerary, and tips for drivers and guides are all included. Transportation in New Mercedes GT air-conditioned, 21-seat minibus, is included. Air transportation not included.
"Truffles & Treasures of Italy" is priced at $11,225 per person, based on double occupancy in a deluxe room. The optional Alba extension is $1,945 per person. Upgrades to suites available at most properties at increased rate; standard rooms available at reduced rate.
Since 2004, Mirepoix USA has been sourcing the highest quality specialty gourmet foods and traditional French foods from manufacturers and importers across the United States. The company currently offers over 40 foie gras selections; fresh truffles including summer truffles, Burgundy truffles, Perigord black truffles and Alba white truffles and well as truffle based products; French charcuterie, and a wide selection of caviar. In recent years the online retailer has expanded product offerings to include Wagyu and US Kobe beef, French cheeses, and gourmet gift baskets and gourmet food. Mirepoix USA began offering culinary travel and events in 2012.
For more information about Mirepoix USA and "Truffles & Treasures of Italy", visit http://www.mirepoixusa.com or call 866-992-9559. The full itinerary and accommodations details are posted on the website.