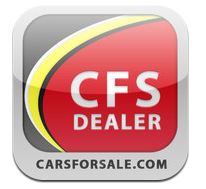 We are excited to offer dealers another dynamic tool for their dealership marketing toolbox.
Sioux Falls, SD (PRWEB) February 27, 2013
Carsforsale.com, one of the most popular online auto classifieds websites, announced today the release of its highly anticipated Dealer Mobile Application update for use on Apple iOS devices.
CFS Dealer, version 2.0, is now available for free download in the iTunes App Store. This updated application turns your iOS device into an Automotive Sales Back Office. This car dealer iOS app is loaded with features that every car dealer needs to run their business from their mobile devices. Among the many functions and features of this versatile app are: lead management access, inventory update capabilities, add vehicle functions, enhanced VIN scanner, improved photo browsers, click to contact lead functionality and additional filter and search functions. All of this paired with a faster, simpler design and easy navigation makes this dealer app the one of choice for thousands of car dealers across the country.
"We are excited to offer dealers another dynamic tool for their dealership marketing toolbox," said Sean Coffman of Carsforsale.com. "We are dedicated to developing products and services that make dealer's lives simpler. This updated application is just another step in that direction."
Dealers who do not currently utilize Carsforsale.com's inventory and website solutions can contact our Dealer Sales team at 866-401-9778 for further information.
CFS Dealer can be downloaded for free in the iTunes App Store at https://itunes.apple.com/us/app/cfs-dealer/id510044604?mt=8.
About Carsforsale.com:
Carsforsale.com created in 1999 and headquartered in Sioux Falls, South Dakota and is one of the fastest-growing and most popular auto classified websites. Carsforsale.com offers a fast and effective way to connect buyers with sellers of used cars. Carsforsale.com reaches millions of unique visitors each month and is a privately held company.
###