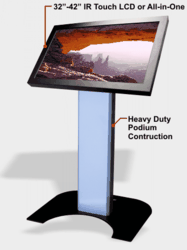 Load floorplans, add locations, paths, directions, etc., all from any web browser.
Somerdale, NJ (PRWEB) February 28, 2013
Library Automation Technologies, Inc. (LAT), a leader in public use automation products, is pleased to introduce a multipurpose qkPATH™ directional display system designed to help and assist with locations, directions, and information inside of public buildings or campus. Designed primary for public institutions that provide services to many people on daily basis (such as hospitals, libraries, schools, government buildings, airports, etc..) the system provides highly visible, easy to use, touch-screen kiosks that show location information, directory, and direction to most destinations within a facility or campus complex.
"These displays are like minor miracle," says Ms.Kovalski, RN of Kennedy Health System. "They show departments and doctors, and how to get to them. In the past, every time I walk by our lobby area, someone would always stop me asking for directions. Now qkPATH™ kiosk does all the work!"
qkPATH™ system consist of one or multiple independent touch screen kiosks that provides various information to public. Usually located at the entrances, or in heavily traffic areas, these large displays show directory, locations and directions to selected places on-demand. Simple touch screen operations are aided by on-the screen instructions and optional multi-lingual voice prompts. Optionally directions can be printed at the kiosks, or sent to users smart-phones. The systems are fully web-enabled and fully administered and configured remotely. This provides tremendous flexibility for local and remote facility staff to populate with information, change, re-route and inform public independently at each of kiosk locations in real time.
"Our floor layout is fairly simple, once you get used to it," said Tom Perkins JD of Perkins, Biddle and Baum. "But for first time visitors it could be a real challenge. Often clients are seen wandering the halls, trying to find correct offices on our floor. With qkPATH™ this will never happen again."
Various configuration of qkPATH™ are available depending on particular requirements. The system is highly modular. Facility may start with one directional display, and then grow to more, for example one on each floor or in each building, in case of a campus environment. System is very flexible and will easily scale up or down to accommodate. Options include printing capability, mobile messaging, time based messaging and advertising, and other. All configurations are ADA compliant, and feature one button emergency escape routing for each kiosk location.
The product was designed and build based on knowledge and experience gained over many years of manufacturing and deploying public use systems and kiosks. Building on knowledge and feedback of a number of existing installations throughout the country LAT's qkPATH™ system provides a viable low entry cost solution to in-facility location mapping, direction assistance and emergency routing.
Single unit quantity and volume pricing is available now from LAT and its distributors. Additional features and capabilities are described at: http://www.qkPATH.com
Library Automation Technologies Inc., (LAT) founded in 2001 has installations in hundreds of facilities throughout the United States. LAT's innovation earned the firm the coveted "#1 Fastest Growing in South Jersey" by the Philadelphia Business Journal, as well as a "Finalist in the Family Business of the Year" award presented by Farleigh Dickinson College.