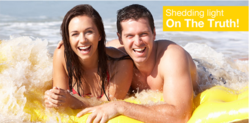 JCTA Members follow Professional Standards
Kelowna, BC (PRWEB) February 28, 2013
Joint Canadian Tanning Association's (JCTA) members must now agree to follow the Professional Standards for indoor tanning salons set out on the new educational consumer website, TanResponsibly.ca. The JCTA created the guidelines in 2006 for salons to follow and the JCTA membership has now made it mandatory that all JCTA members follow these Professional Standards. "It's with great pride that our members have agreed that these standard must be mandatory." said JCTA President Doug McNabb "We want the Canadian public to know our member salons are the Gold Seal Standard for the indoor tanning industry and the only way we could do this is to make our indoor tanning facility guidelines mandatory."
It's not the equipment that is the risk. Its operating the equipment improperly that poses a problem. The JCTA believes that reducing risk for any type of equipment whether it be a sunbed, a car or ATV is about who controls the equipment. JCTA Member salons follow these standards to help protect their clients:
1. Follow all government regulations
2. Skin Type every client correctly using the JCTA Skin Typing Form
3. Banning the Use of equipment for a Skin Type 1 person – defined by Dr. Fitzpatrick as "always burn, never tan".
4. Parental consent for everyone under the age of 18 or follow government regulations for teen tanning where regulations exist.
5. Every staff that controls the equipment is trained and industry certified
6. Keep complete client records
7. No use of self-serve (client controlled/coin-op/swipe card) equipment. Only a trained and industry certified operator may set the time.
8. Every client must wear protective eyewear
The above are the major points that a JCTA member must follow, the complete indoor tanning facility guidelines are much larger. "The new mandatory Professional Standards that JCTA members must follow are the guidelines insurance companies required JCTA members to follow since 2006. The guidelines will now become consumer complaint driven as most government regulations are today. Indoor tanning customers can now make their concerns heard about any JCTA member that is not following JCTA Professional Standard by going to the Pubic Feedback section on the JCTA main website." said Steven Gilroy, JCTA Executive Director
The Joint Canadian Tanning Association (JCTA) is a national non-profit organization created to increase understanding of the professional tanning industry's scientifically supported position that regular moderate ultra-violet exposure from sunshine or sunbed in a non-burning fashion is part of a responsible lifestyle that recognizes both the inherent benefits and the manageable risks associated with ultraviolet light exposure.