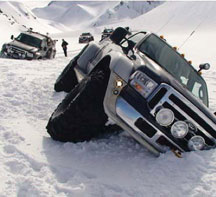 Being aware of potentially dangerous situations in and around the home is the first step toward safety...
Neptune, NJ (PRWEB) February 28, 2013
As the winter season draws to a close, many may be tempted to assume that the last of snow and ice has been seen for the season, and that a warm and sunny spring is just around the corner. Unfortunately, much of the country is still experiencing heavy snowfall with some areas anticipated to receive even harsher winter weather as the biggest snowstorm of the year has been forecasted to arrive very soon. While these few remaining weeks of winter can be spent warm and comfortable at home by many, more snow means that there is a greater risk of car accidents, snow and ice-related injuries, heating appliance fires and other unfortunate occurrences.
In light of the hazards associated with winter weather conditions, many daily routines and basic housekeeping practices can be altered to reduce the threat of damage to homes and businesses, as well as personal injury. "Being aware of potentially dangerous situations in and around the home is the first step toward safety, and it is particularly important to note household safety when families are spending the majority of their time indoors during the winter," said Donald Colarusso, President of All Hands Fire Equipment and firefighter for over 25 years.
All Hands Fire Equipment is a New Jersey based leading firefighting equipment supplier and provider of fire equipment training to customers in the United States and abroad: http://www.allhandsfire.com/emergency-preparedness-equipment-supplies. The following tips can help insure safety during and after a dangerous winter storm:

Maintaining appropriate paths through fallen snow to and from doorways will allow for egress in the event of an emergency. Paths should be repeatedly cleared in the event of any additional snowfall.
Care should be taken to ensure that snow is cleared off fire hydrants so that they are visible and accessible to firefighters should a structural fire occur.
Fireplaces, space heaters, wood burning stoves and all other heat sources must be properly installed and maintained, cleaned and serviced to reduce the risk of fire. These must also be kept far away from window dressings and similar flammable materials.
Carbon monoxide detectors and smoke detectors should be checked for proper operation frequently, but this is especially important during the winter when families are spending more time at home.
Windows will likely be closed to seal out the cold, so ventilation may be decreased compared to that in warmer months. As a result, any chemical fumes present will be experienced in greater concentration. Ensuring that all household chemicals are stored safely according to manufacturer's recommendations is of utmost importance.
Protecting families by establishing a safer home environment is an on going process. Remaining aware of the various dangers associated with winter is a vital step toward making sure tragic incidents occur with lesser frequency.