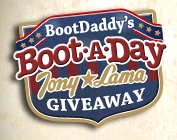 Springfield, MO (PRWEB) February 28, 2013
Tony Lama, the World's Most Recognized Western Boot Brand, Since 1911, is teaming up with PFI's BootDaddy. Every day in March, everyone has a chance to register and win a pair of cowboy boots from the Tony Lama Americana boot collection.
Where to enter to win? It's just a click away. Starting March 1st, registration will be available at BootDaddy.com and PFIwestern.com. For Facebook users, "Like" PFI Western, BootDaddy or PFI's Saddle City.
Of course, registration is available at PFI's BootDaddy, which is a must see stop on the way to Branson, MO! Open 7 days a week, PFI Western Store is conveniently located at Highway 65 & Battlefield Road in Springfield, MO.
**********************************************************
BootDaddy, "The Baddest Boots on the Boulevard" is a cross between a cowboy man cave and a veteran rock star's dressing room, the BootDaddy boutique promises to meet the demands of Western boot connoisseurs and those boot-buying virgins. The BootDaddy brand also includes BootDaddy Beer, BootDaddy Moonshine and BootDaddys men's and women's fragrances.