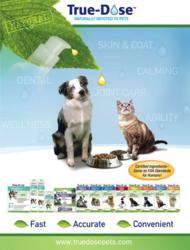 "Pet products are a huge opportunity for our members and we are happy to see the success many of them have with True-Dose."
St. Louis, MO (PRWEB) February 27, 2013
True-Dose Pets was excited to head to sunny Orlando, Florida, this week for the Pharmacy Development Service Conference. This event is the largest gathering of high-performance pharmacy owners in the industry. Independent pharmacy owners come to the conference to network, stay up-to-date with the latest developments of the industry and learn from industry leaders about growing their businesses.
True-Dose has attended the conference for the last five years, because it affords the True-Dose team an opportunity to really connect with the people who carry their products – independent pharmacies across the country.
"PDS is excited about having a partner like True-Dose because they represent the innovation and creativity pharmacies need to embrace the evolving business of independent pharmacies," said Carole Bebout, Director of Corporate Relations for Pharmacy Development Services. "Pet products are a huge opportunity for our members and we are happy to see the success many of them have with True-Dose."
True-Dose representatives look forward to the opportunity to visit with current clients and take re-orders from the sales floor. Their all-natural pet supplements have always had a great response at the conference, with their trade-floor sales increasing each year.
True-Dose also provides education to pharmacies about the opportunity to expand their inventory in the growing category of over-the-counter pet products. This fits perfectly with the conference's goal of helping pharmacy experts learn new ways to generate revenue for their businesses.
About True-Dose
True Dose, headquartered in St. Louis, MO, uses a patented system to produce high-quality natural supplements for canines and felines. Our products address joint care, skin and coat care, calming, wellness and dental care. True Dose supplements are manufactured in a human-grade pharmaceutical facility, following the same strict testing and quality standards mandated by the FDA for state-of-the-art pharmaceutical product manufacturing. Our raw ingredients are certified and tested to ensure they meet our strict quality standards. The founders of True Dose have long had the goal of providing human-quality, pharmaceutical-grade products to our four-legged friends.
"Pet parents expect the same quality for their pets as they would for themselves. That is why True-Dose is a perfect solution for their needs," says Joe Wayman, President of True-Dose.
True Dose ensures quality ingredients as well as accuracy and ease of dosage. True Dose products have been clinically proven to have faster absorption rate and higher peak concentration than tablets and chewables in a head-to-head crossover study conducted by the Oklahoma State University Veterinary Animal Science and Research Departments.