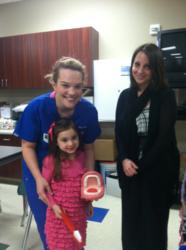 Beaumont, TX (PRWEB) February 28, 2013
Gulfside Dental is extending its dental exam and X-ray package until the end of March. The discounted dental package costs $40, which includes a $98 savings.
Gulfside Dental initiated the offer to promote National Children's Dental Health Month, which will come to an end this Thursday. Since the offer did so well in February, Dr. Ashley DeMarco thought it beneficial to extend the service to patients as her way to help maintain their oral health. "This special allows people without insurance to seek dental care at an affordable price."
Gulfside Dental is also extending the giveaway of a free Under Armour mouth guard with the completion of an exam and dental X-ray to student athletes. National Children's Dental Health Month is designed to promote healthy dental habits of children. Dr. DeMarco suggests that parents educate their children of the importance of preventative dentistry, including regular six-month check-ups, as well as the importance of fluoride and sealants to help prevent tooth decay.
Additionally, other preventative practices include proper brushing in circular motions, flossing twice a day, as well as rinsing with mouthwash on a daily basis.
The office, located at 4179 Dowlen Rd., across from Parkdale Mall in the Barnes and Noble shopping center. Gulfside Dental is open 9 a.m. to 6 p.m. on Monday through Friday and every other Saturday from 9 a.m. to 3 p.m. Gulfside Dental urges patients wanting to make an appointment to call the office phone number at 409-899-4867.