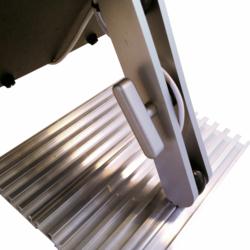 combined versatility and functionality to compliment the sublime design of the iPhone and iPad
Healdsburg, CA (PRWEB) February 28, 2013
Cool Invent is pleased to announce their brilliant new home/office accessory; VERSI iPad stand made out extruded aluminum with CNC machine grade anodized lever arms and articulated ball joint allowing for multidirectional use while charging Apple devices. Cool Invent's founder and creative force, Dale Rorabaugh, has developed this new product with the versatility and functionality to compliment the sublime design of the iPad and iPhone. Whether using it to make a statement with your next client presentation or simply docking your iPad or other device in it, VERSI offers a perfect equation of art + function. The VERSI line of stands for Apple products is dedicated to keeping them versatile, elegant, revolutionary, stable and Iconic.
VERSI is not only a stunning artistic statement with it's sculptural form and seductive hi tech aluminum – it's also extremely versatile. The clean, simple design of the aluminum VERSI provides optimal functionality with a sophisticated minimalist aesthetic. Each stand is handmade by Cool Invent with hi-tech extruded aluminum and finished with the perfect channels to hold all generations of iPads in portrait, landscape or typing modes as well as tilting, swiveling and rotating in virtually any direction or height. VERSI's unique built in charging system allows the user to simply slip the iPad into the perfectly angled slot and your ready for hands-free viewing of movies, e-book reading, video calls, website viewing, games, online recipe review while cooking and more! Measuring 6" x 12" the aluminum VERSI provides a minimum footprint for desk or tabletop use.
As with all of Cool Invent's ingenious creations, each VERSI is made of unique aluminum or granite that is not only beautiful, but also incredibly durable and easy to care for.
The artisanal collection is available in four models each with a choice of granite or aluminum base. Models include the stand alone base for the iPad, iPhone, iPad mini and a dual version for both the iPad and iPhone. Pricing starts at $158.00 and is available for purchase at http://www.cool-invent.com
About Cool Invent:
Cool Invent, LLC under the guidance of designer Dale Rorabaugh, is the innovative Healdsburg studio that has been designing and creating exemplary artisanal products for over 5 years with over 20 years in manufacturing. Cool Invent consistently delivers unsurpassed beauty and durability of their unique product. For more information, visit http://www.cool-invent.com