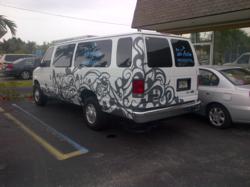 Miami, Florida (PRWEB) February 27, 2013
Into Action Treatment Center in Boynton Beach, South Florida, has been known to promote the arts throughout their treatment facility. The back wall has been tagged by local graffiti artists and 1 of their transportation vans has been tagged as well. One of the artists who tagged the back wall of the treatment center was invited back today to paint the 2nd transport van.
Krave is a local Miami, Florida, graffiti artist and he has his tags interspersed throughout the city. One thing that he is known for painting is a monkey with a can of spray paint. He tagged this on the back wall of Into Action when he was there on his first visit, and did a similar tag of the earlier graffiti photo he did.
This time he went with the same theme, a monkey with a spray paint can. We caught up with Andrey Rossin, founder and CEO at Into Action Treatment and asked him why he puts so much of an emphasis on the arts, and here was his response. "The arts are so important in recovery and at our center, because they make a huge difference in the success of our clients. Art at its most fundamental level is all about expression. We believe at Into Action that our clients need to express themselves, whether it be the happiness or the sorrow. By expressing themselves, they will be able to better release the demons inside that have been haunting them."
Into Action Treatment offers art therapy for addiction, which they been offering since they opened up in February of last year. You can see the art of their clients interspersed throughout the drug rehab center on the walls. All clients are asked to draw a picture of their addiction and these pictures allow the clients to put a face to their addiction. "We encourage our clients to get involved in the arts and express themselves, it's a much better choice than bottling the feelings up inside," said Rossin.